My November 2016 Photo of the Month is Tunnelscape, an image made at the Scripps Pier at La Jolla Shores.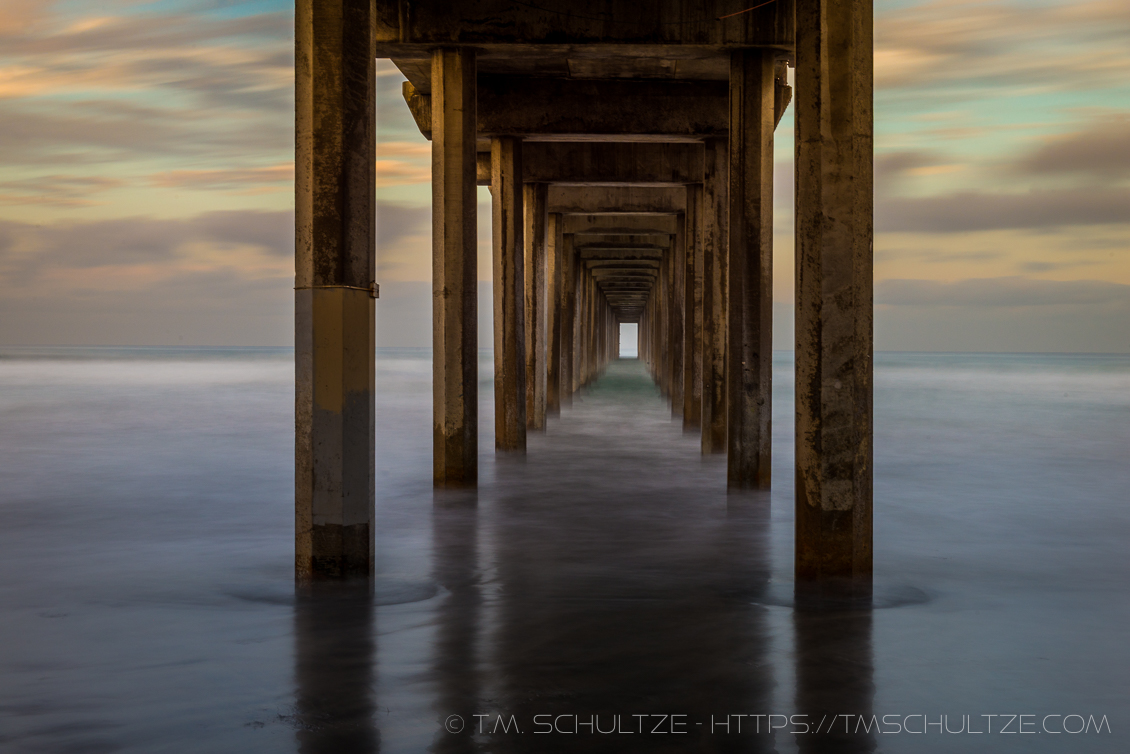 Tunnelscape Background
Scripps Pier is one of the most photographed landmarks in San Diego. It is quite a challenge to create an image that is unique.  The pier is most often photographed in the afternoon and at sunset.
Late each day, you will see photographers set up under the pier trying to recreate Peter Lik's famous image (half his ocean work seems to be of Scripps Pier).  La Jolla Shores is an extremely popular beach, and people will be walking, surfing, playing frisbee, kicking a soccer ball, and all kinds of activities.  It's a wonderful season.
I decided I wanted to try something different, so I went in the morning.  In the Fall and Spring, mornings are dominated by the onshore flow marine layer.  Many mornings are socked in until the clouds break up late morning or early afternoon.
I also wanted a longer exposure to blend the horizon and the surf.  This particular morning, I was greeted with an early opening in the clouds just after sunrise.  This gave a nice soft background for the pier to stand out in.
Always Improve
This is an image I can improve.  I was slightly off-center, so the right side is narrower than the left.  But having thought about it for some time, I have begun to feel it is a feature, not something taking away from the image.  If the columns are perfectly symmetrical, is it too boxy and conformist?  Or is there value that upon close inspection you see through the pier tunnel just to the right, and it would take a person studying the image to notice.
I will return to create a similar image in the future, and I may try the "box" version.  Oh, and one thing I will not do is try to photograph the cliche sun setting through the pier window.
As always, thank you for reading, and I hope you enjoy the image.
T.M. Schultze is a San Diego-based photographer, traveller, and writer. He writes, photographs, and draws things of the outdoors that have inspired humans for thousands of years. He co-authored the Photographer's Guide to Joshua Tree Park which can be purchased here.