Best Photo Locations In San Diego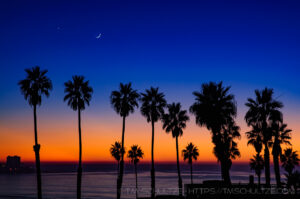 Finding the best photo locations in San Diego is important for people visiting or who people who are fortunate enough to live here.
Having spent the last 18 years in San Diego, I have had the opportunity to learn many of the best places to make images in town.  This is a living list, is not complete, and will be updated over time.  With that being said, please don't hesitate to contact me or leave a comment if you think another location deserves consideration.
This list is presented in no particular order, because ranking photo locations is entire subjective.  That being said, I will try to leave what I personally feel are the best locations towards the top of the list.
To see my San Diego area portfolio, be sure to visit here.  To see my work from San Diego's East County, I have another portfolio gallery for viewing.
La Jolla Cove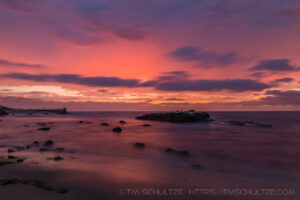 La Jolla Cove may be the jewel of San Diego.  The cove has rocky outcroppings making various designs and patterns that make perfect foregrounds for your landscape images.  This location is fogged in during marine layer season.  Look for approaching or clearing storms, or during winter evenings with high clouds.  Be extra careful during periods of high surf.  Unexpected large waves have drenched many a tourist and photographer.  It is highly recommend you get to the cove extra early because of very limited parking.  If you are coming on a weekend, it is likely best to park in the village (the bank building has plenty of paid parking) and hike down to the cove.
Sunset Cliffs Natural Park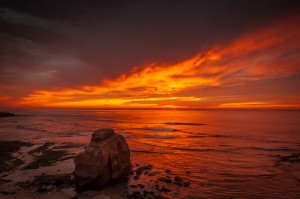 Sunset Cliffs is a beautiful location.  Just South of Ocean Beach (O.B.) mostly along Sunset Cliffs Boulevard, this can be a phenomenal location outside of marine layer season.  Look to come here during approaching or clearing storms, or during winter evenings with high clouds.  Parking can be limited on weekends.  Look to park on the Northbound side of Sunset Cliffs Boulevard on the curb.
Harbor View/Lucinda Street

A world-class view of Downtown San Diego is available at this Point Loma location.  The street is steeply sloped facing downtown.  The locals who live in the neighborhood are well used to photographers capturing an amazing view.  That being said, it is important you spend your time there quietly and respectful of those who live there.
Balboa Park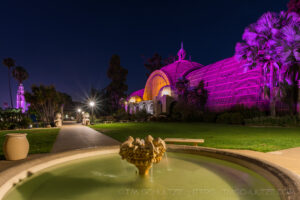 Now celebrating it's 100th anniversary, Balboa Park is one of the best ways to spend time in San Diego.  There are numerous locations to make images, from landscapes to portraiture to street photography.  Locations include the Organ Pavilion, the famous koi ponds, the Botanical building, the Bea Evenson Fountain, the Old Globe Theater, and the famous tower.  You can also capture the North side of Downtown from the El Prado Bridge.
Scripps Pier/La Jolla Shores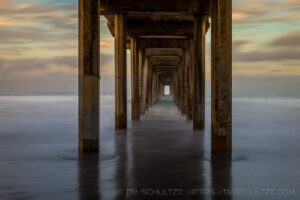 Scripps Pier is famous for various images taken under the pier with the waves crashing in.  In addition, along the walk down from La Jolla Shores Drive, you have several compositions using the pier as a leading line in your photograph.  To the south of the pier, there is an elevated sitting area with plenty of room for you to set up.  The pier is not as picturesque up front.  There are usually vehicles parked on top.  The pier is an active research facility for the Scripps Institute of Oceanography.  Keep in mind that east of the beach, you are on public property for UCSD, and you should respect the area appropriately.
Centennial Park/SDG&E Park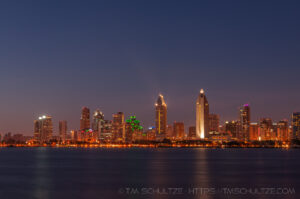 Both locations in Coronado offer great views of Downtown San Diego.
Santee Lakes
If you enjoy making photographs of birds and wildlife, then Santee Lakes is an amazing place.  Thousands of ducks can be found migrating as well as year-round on the 7 individual lakes.  Ospreys hunt fish out of the lakes, and you can find them eating their meal on power poles.  Egrets are everywhere.  Hawks are easy to find, particularly morning and evening.  Dragonflies can be found in the reedy areas every hot September.
Oceanside Pier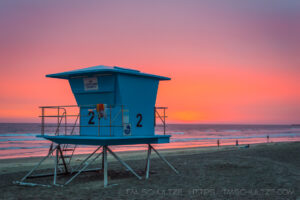 The Oceanside Pier is huge, and if you want to include a cityscape in your image, you can walk out a great distance and look back.  The beach is also fantastic, and I have made sunset images balancing the pier, some lifeguard towers, and people enjoying their day at the beach.  Because of the size of the pier, this is a great twilight or night image as well.  Just after sunset, wait for the lights to come on to make a more powerful photograph.
Torrey Pines State Reserve
Torrey Pines is famous for being one of the best places to photograph the green flash.  However, being some of the rarest pine trees in the world, you have many opportunities to balance the trees with the surrounding landscape.  This photo location is best at sunset.
Coronado Tidelands Park
The tidelands park can be an amazing photo location.  The park gives you a view of the Coronado Bridge in San Diego Bay.  Boats, canoes, and kayaks are often beached, giving you an amazing foreground for your image.  Images in light fog can be spooky.  Stormy sunrises can be amazing.
Windansea Beach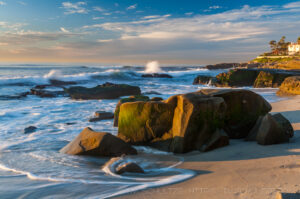 Windansea is another local location with easy beach access, as well as plenty of rock outcroppings to give you numerous compositions to photograph.  Parking at this photo location is also limited, so get there early.
Mount Soledad Veteran's Memorial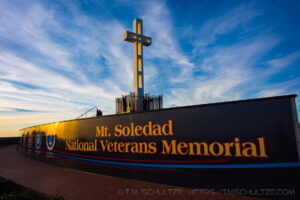 Mount Soledad is famous for it's somewhat controversial memorial, but it is overlooked as a photo location.  Parking is limited, but normally not impossible to get.  While the memorial is supposed to be open 7 AM to 10 PM, I have photographed sunrises and evenings outside of those hours with no issues.  This was a great location to get one of the last lunar eclipses.  This location is a good sunset location in the Summer when the sun is high in the sky, but a separate peak with towers obscures the view at 270 degrees and is therefore not recommended for most sunsets.
Bird Rock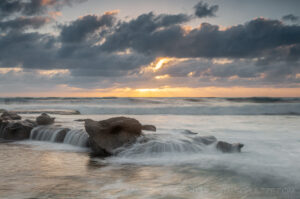 Bird Rock has several outcroppings you can photograph from.  Same rules apply on the best days and times to shoot.  Be very careful in this area along the rock.  I broke a finger making this image.  Worth it for the shot, but it is easy to get injured.
Mount Helix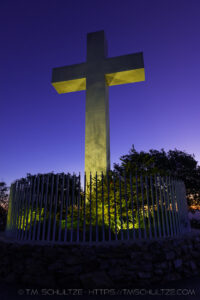 Mount Helix is just outside of La Mesa and has a wonderful 360-degree view.  This is a great location particularly at sunset for the view of San Diego to the West.  There is limited parking, so it is recommended you arrive early.
El Cajon Mountain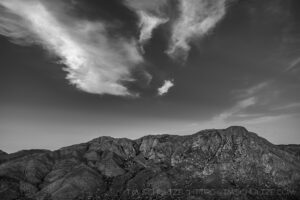 El Cajon Mountain is one of the most overlooked photo locations in greater San Diego.  Also known as El Capitan, the massive piece of granite is an impressive sight.  Easily seen throughout the county, but hard to approach for a photograph, my best advice is to look for Creek Hills Road and locate the El Monte Park trail.  A great scenic overlook is about a half mile down the trail.  Look for good clouds in the morning or evening.  The rock glows a bright orange at sunset.
Again, this list of San Diego photo locations is not complete.  Please bookmark this page and check back regularly for updates.  Feel free to email me or leave a comment if you have further suggestions.
T.M. Schultze is a San Diego-based photographer, traveller, and writer. He writes, photographs, and draws things of the outdoors that have inspired humans for thousands of years. He co-authored the Photographer's Guide to Joshua Tree Park which can be purchased here.