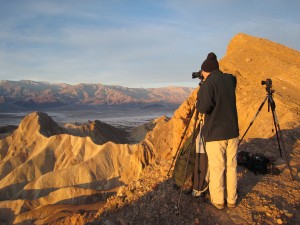 Thank you for visiting my website and reading a little about me. While the main focus of my website is my photographic art, I intend to also showcase many things I like to do that do not pertain to a cubicle in an office.
I learned to enjoy the outdoors at a very early age. Some of my earliest memories were camping in a small pup tent, whether it be to go fishing at Lake Hemet for the weekend, or set up in the backyard.
My first encounter with the Grand Canyon at the age of 13 sealed my love for the world and the environment. It rained that day, and the canyon did not glow with that otherworldly color at sunset that we know and love, but the hike down into the canyon, seeing layer upon layer of sediment going back millions of years, sparked a lifelong interest in our planet.
As a student, I developed a keen interest in writing. What started as class essays developed into creative writing, particularly, short stories and poetry. I am currently working on a short-story collection to be self-published at some point in the future.
As an adult, I rediscovered his interest in the outdoors through photography. What began as time spent with friends became a lifelong passion. Photography has given the meaning to my life that I spent years searching for.
I am a Past President and continuing Executive Board member of the San Diego Photo Club, where I have the privilege of meeting many of the best and brightest artists in the San Diego area.
I have recently completed my first eBook as the co-author of the Photographer's Guide To Joshua Tree National Park.
As it has been said, art is expression. I am proud to present this website as a testament to my lifelong interest in the outdoor environment, the printed word, and the developed image. I hope you enjoy viewing this website. Feel free to contact me any time about our shared interests.