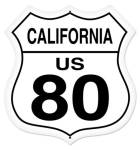 This is a California photo project dedicated to U.S. Route 80. From 1926 to 1964, U.S. Route 80 was the Broadway of America, stretching from San Diego, CA, to Tybee Island, near Augusta, GA.
Old Highway 80 in California
When I moved to San Diego, I discovered this road and learned that much of the road still exists today, even after it was decommissioned officially in 1964 and gradually replaced with the Interstate 8 Freeway.
This is my attempt to photographically chronicle the California section of the old road and some of the best road-based landmarks as they exist today from its Western terminus in San Diego to its approach into Yuma, Arizona.
I have used a variety of sources to compile my list of information, images, and stories of this historic highway. These include:
Numerous personal auto trips along all sections of the old road.
Google Maps (both standard and satellite views).
Historic Map Collection (mostly obtained via eBay).
The Old US 80 Highway Traveler's Guide, Phoenix to San Diego, by Eric J. Finley (ISBN 0-9652358-0-7).
Michael Ballard's excellent and exhaustively researched website at socalregion.com.
The original Old Highway 80 Website, via the WWW Archive.