As 2017 comes to a close, it is time to create my post of my favorite photographs of 2017.
If you want to see the images I selected in 2016 and my favorites from 2015, feel free to click on the appropriate links.  Thank you to Jim Goldstein for originating this project, as well as my friend Alexander S. Kunz for encouraging me to create my own.
I create a monthly Photo of the Month blog post, and it would be too easy to just select those 12.  In addition, my thoughts change over time.  Some overlooked images emerge, and I evaluate my work differently.  So this list may have some discrepancies with the ones I chose each month.  That's art for you.
At the bottom of this post, I have created a Gallery of these images for you to look through.
A Windy Path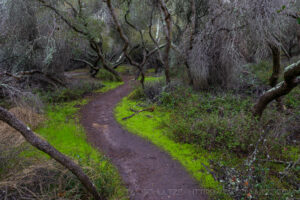 2017 began with the unexpected. The 2016-2017 rain season was the best in many years after an entire generation of severe drought. I forgot what it was like to hike in the morning and actually have wet ground to deal with.
Alexander S. Kunz encouraged me to do this hike in the Del Mar Preserve. What brings me back to this image over and over is the simplicity and underlying complexity of the image. This scene does not look like San Diego. I could tell most people I was hiking in Scotland and they wouldn't question this photograph.
Slot Canyon Within Slot Canyon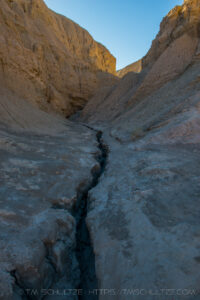 A great trip in January with my friend Chris Horn started in knee-deep snow in the Lagunas, and finished up at Arroyo Tapiado in Anza Borrego.
With the record-breaking rain season, even the desert saw plenty of precipitation. In this case, the mud canyons were indeed expanding, with a new channel cut through the much larger channel that defines these slot canyons.
Fog Bow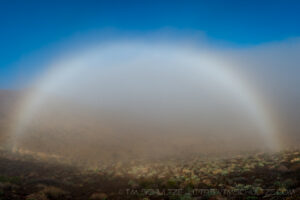 This unexpected phenomenon occurred on a trip with Alexander S. Kunz to Joshua Tree.  I would say that getting up at 2:30 AM to get there before sunrise was worth the effort!  There was a rare inversion layer in the Pinto Basin, and we caught this incredible fog bow on the way up to the Silver Bell Mine.
Whistler Fitzsimmons Creek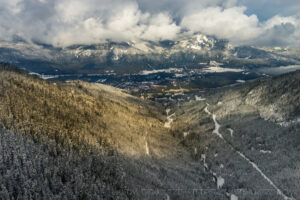 Because of a work recognition trip, I made it to Canada this year, spending 5 days in Whistler. I am not a skiier or snowboarder, but we had one clear day that made paying for the Peak 2 Peak Gondola worth it.
It was a challenge photographing through the glass, but a polarizer and some careful angles produced a great image of an incoming storm and some dramatic light on the Whistler Mountain side of the canyon.  Fitzsimmons Creek runs at the bottom of the two mountains.  The gondola was great because you only had to pay once, and you could ride back and forth as much as you wanted.  Thank you to Jeremy Long for making the trip with me.
Santee Rocks Spring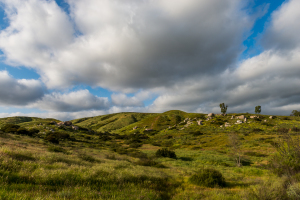 There are many rewards to staying local and owning your own backyard.  I have been a San Diego-area resident for 20 years, but more specifically, I have lived in the community of Santee for 16 of them.
I live in the West Hills neighborhood of town, and this canyon near the Santee Boulders off Mast Boulevard has always intrigued me.
A nice clearing storm during a great rain season created something special.  I pass this canyon twice every day commuting to and from the office.  Never have I seen it so green and vibrant.
This is the definition of a personal favorite.  I am not sure other people appreciate it the way I do.  So many photographers were out chasing wildflowers with barely any elbow room.  Other than some road traffic and occasional rock climbers, I am not sure anybody takes much notice.
Alas, we do live in an arid chaparral environment.  Within a week, it was easy to see the vibrance fading.  In addition, the new Weston housing tract (formerly Castlerock) began to the East of this canyon.  This canyon is still there, but the work of bulldozers and earthmovers is just a few hundred yards away.  I wonder if I will ever see a scene like this in this location ever again.
This image will long be one of my favorite photographs because it will always remind me of a specific period of my life in a quickly changing world.
Ponder The Beyond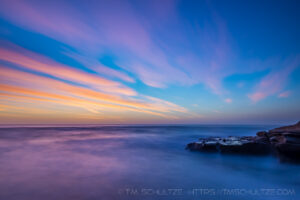 I have visited Sunset Cliffs Natural Park more times than I can begin to count. I can count on parking, and some solitude even when the place is busy. With more beautiful light, I set up a very long exposure and let the clouds blend into the sky. The surf blended into glass. The long exposure gave me ample time to appreciate the quiet, serenity, and a feeling of peace hard to experience in a community of 1.3 million people.
Poor Rabbit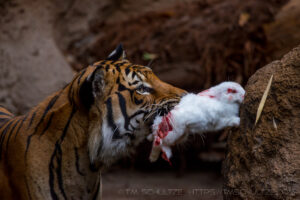 At the urging of my good friend Tom Applegate, I finally visited the San Diego Zoo with a proper camera.
This is somewhat of a silly photograph, since the tigers are fed these rabbits by their handlers.  But, to my surprise, I managed to capture this at just the right moment.
So why is this one of my favorite photographs of 2017?  The composition is simple, and conveys a powerful message.  Both the tiger and the rabbit are similarly positioned, and it illustrates the reality of predator vs. prey.  This is the food chain.
Violet Castles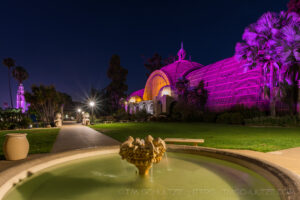 This image was a late addition for me. I did this trip with Tom Applegate. It was simply a night of walking through Balboa Park looking for great angles and opportunities. The Botanical Building has been photographed ad nauseum head-on because of the pond, but I considered whether a different angle may be interesting.
Kwaaymii Point Monsoon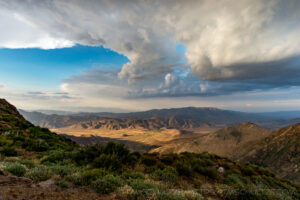 What a great year for monsoons in San Diego County. For those who may not be from the Southwest United States, these occur during the Summer. We get only occasional rain out of these clouds in San Diego County, although quick and overwhelming storms with flash floods can occur in the desert regions. I made this trip with Tom Applegate. He made me photograph birds, so I made him come shoot some landscapes with me. This was one of the moments where you immediately stopped what you were doing. The light was perfect, incredible, and jaw-dropping in person.
Not to be a spoiler, but this image is the personal favorite of my favorite photographs in 2017.
August Mushroom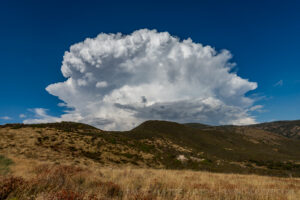 This was another trip to East County with friend Tom Applegate.  What can I say?  The monsoons were spectacular this year.
This, again, is a simplistic image.  This is what I wanted.  A well-meaning friend commented that the photograph would be perfect if I included a tree.
But why?  My subject is this amazing looking cloud formation.  Why muddy that up with a tree in the foreground?  Can't the mountain chaparral frame the subject all by itself?  People continue to insist on foregrounds that distract from their subjects or make an image too busy.  Why not keep it simple?  Clouds are so complex, and I would rather give people time and clarity to study their textures than keep their eyes spinning.
Sentinel's Expanse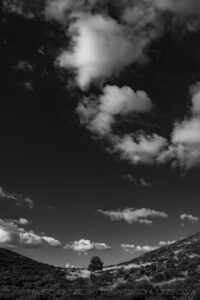 This was another great trip with Alexander S. Kunz to Laguna Crest, a favorite in San Diego County for both of us.  Another monsoonal storm was clearing on Laguna crest, a place that requires a lifetime of visits if you live in the area.
Alex gets credit for spotting this oak.  It can be tough to see these things while driving, but as soon as he mentioned it, I knew I had to stop.
This was photographed along the Pacific Crest Trail.  It took about 20 minutes of waiting for the clouds to be in the position I wanted.
I believe this image reflects the best of my vision.  The composition is not complex.  It is a wide angel with lots of sky.  The photograph is free from distracting elements.
This image was not selected for my Photo of the Month when I made the blog post.  I have thought about that decision many times.  The image I did select was good, but it hasn't made me come back over and over again like Sentinel's Expanse.
Christmas Morning 2017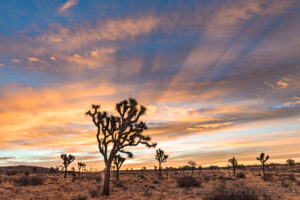 This was my 12th consecutive Christmas morning in Joshua Tree National Park.  Last year, I got snow, rain, and very heavy wind.  This year, the weather was incredibly mild.
It doesn't need to be cold to have beautiful light though.  As I drove North more than an hour before sunrise, I could see very faint reflected reds in otherwise very dark clouds.  When this happens, you are in for a treat.
This simple composition also reflects somewhat of a development I have seen in my work this year.  Instead of forcing foregrounds into my images, I have gone with my intuition.  If there is no foreground, I have done without it.  The largest Joshua Tree was a good enough subject for me, blending into the brilliant sun rays from a pre-sunrise sun.
As always, I thank you very much for reading, and I hope you enjoy these favorite photographs of 2017.
Favorite Photographs of 2017 Gallery
T.M. Schultze is a San Diego-based photographer, traveller, and writer. He writes, photographs, and draws things of the outdoors that have inspired humans for thousands of years. He co-authored the Photographer's Guide to Joshua Tree Park which can be purchased here.