At the urging of many friends, I am creating a post that includes what are my personal favorite images of 2016.
It should be noted that these are the images that have the most personal meaning to me.  I may have other images that could be deemed superior, but in my view, I have a stronger personal connection to the pictures below.
East Wetlands Sunrise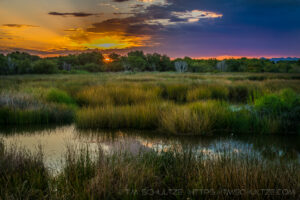 This image is most likely my personal favorite from the year.  In 2016, my family lost my Grandfather.  It was very sad for everybody.
Visiting my Grandmother, this image resulted from her suggestion to visit Yuma's East Wetlands at sunrise.  This photograph was taken during the Summer.  Taken at sunrise, it was easily 95 degrees already.
This was an incredibly meaningful moment because I got to spend it with my grandmother.  Because she is an artist herself (Click Here For Her Website), she shares many of the same sensibilities that inspired me to take this photograph.
Figueroa Mountain Valley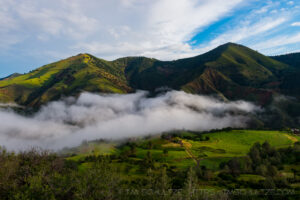 March and April are amazing months at Figueroa Mountain in Santa Barbara County, particularly if you want to chase California Poppies.
This image was made from the ridge road running up to Figueroa Mountain.
The valley below famously was the site of Neverland Ranch, owned by Michael Jackson.
Volcan Mountain Poppies
This was yet another hike with Alex Kunz.  This Spring hike was during a storm to the rounded peak of Volcan Mountain near Julian.
The hike took us below the cloud layer at the trailhead and in the middle of the clouds at the peak.  Enjoying the scene, we saw some orange to the North.  I walked over to investigate and was pleasantly surprised to find California Poppies in San Diego County.
In times of drought, the poppies don't seem to bloom in April, but the El Nino season helped make it happen in 2016, and I am happy to have been outside to enjoy it.
Badwater Rainbow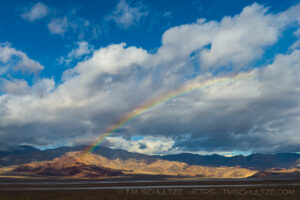 2016 was hyped to be a "Superbloom" in Death Valley, particularly because of Facebook's Trending section.  The El Nino season was actually a mild disappointment, particularly for Southern California.  That being said, there was enough rain to be excited about possibilities for Death Valley.
Indeed, I did make some cool Spring wildflower images in Death Valley.  But with a storm coming, this was the image that spoke to me the most.  How often do you get a rainbow in Death Valley, a phenomenon that requires water vapor in one of the driest places on Planet Earth.
Wildflowers, Great Sand Dunes Black and White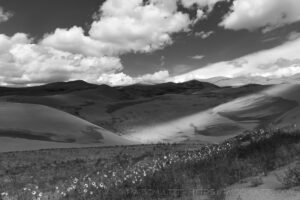 This was one of the first images I thought of for my favorite images of 2016.  Over the Summer, I visited my parents in Southern Colorado.  Southern Colorado in the Summer is heavily influenced by the monsoonal flow from the Gulf of Mexico, with clear skies in the mornings and clouds and thunderstorms in the afternoons and evenings.
This was my second visit to Great Sand Dunes National Park, so I had a plan right ready to go.  The last time I visited, drought was pervasive, but on this beautiful afternoon, previous rains had brought out blooms of sunflowers across the dune fields.  This image catches the sunflowers, a ray of light, and the clouds seemingly parallel to each other, and I was so happy how this image turned out.
Skylight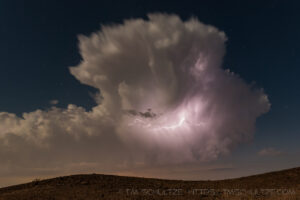 This image was taken during another Summer desert outing, this time with my good friend Alex Kunz.
We originally photographed the dunes at Glamis, but on the way back we stopped off Highway 78 to make a few more images.
This moment captured a rarely photographed moment of cloud-to-cloud lightning.  I distinctly remember the flash of light and realizing I had my shutter open.  Just a fantastic moment to be outside.
Wave Tracks 2
What you see here came out of some brainstorming with my good friend Lee Sie at Coronado's Dog Beach.
He suggested I try to do some panning.  This isn't easy initially.  You must set your exposure settings to allow you to pan, and make sure you pan level so your lines are reasonably straight.
I made a series of these images and I truly enjoy the look.  I feel it belongs in my list because I made more "impressionistic" images in 2016 than ever before, and has given me new ideas on being creative.
Gray Reflecting Moment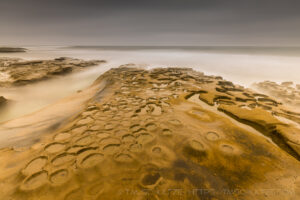 This image from Hospitals Reef was also taken on an outing with Alex.  Because there are so many sunset images from Hospitals Reef, we opted for a morning image.
I had a vision of an exaggerated contrast with a warm foreground and a dark foreboding cloud layer.  I believe I achieved what I was visualizing.
This was a definite pick for my favorite images of 2016.
Tunnelscape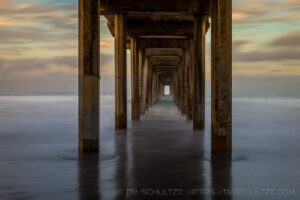 This was another morning outing with Lee Sie.  This is a location that may follow due to Peter Lik's famous image below the pier.
Lee and I wanted to do something different so we opted for a morning image.  The tide was very high, so my boots and tripod were swamped every few seconds.  This was perfect for a long exposure, and I experimented with everything from 30 seconds to 4 minutes.  Once the marine layer began to break, the background came alive.  I really enjoyed the result.
Rows of Remembrance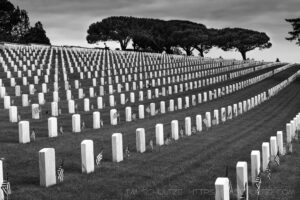 Every Memorial Day weekend, I try to make a visit to Fort Rosecrans.  My Scout Troop participates with other groups planting flags over all of the memorial markers, and the images can be striking.
In 2016, the weather was foreboding, and I chose to make a dark black and white.  This was my second edit of this image, my original processing was too noisy.  My friend Alex pointed this out to me, it is good to have good friends to encourage you and a good lesson to not be too hurried when doing your image processing.
Santee Southwest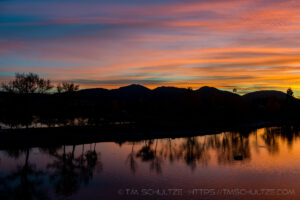 I wouldn't normally guess that I would have favorite images at home, but as I have always said, own your own backyard.
Technically, this view is across the street, but if I am heading home from the office and I know the light is going to be great, I go right to the Mast Blvd. bridge.  The view sometimes can just be sublime.
Another personal highlight of this image is that I got to enjoy it with my 6 year-old daughter.  While my phone kept her occupied while I was setting up, she is now old enough to understand photography and my love of making beautiful images.  Getting to give her a big hug, hold her up, and listen to her admire the pretty clouds make me a very proud Dad.
Perfect Evening At Home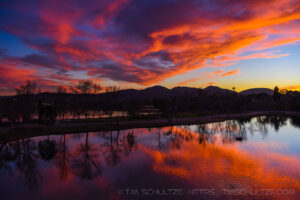 This is the second image from the same spot on the Mast Blvd bridge.  I took this photograph much earlier in the year on an evening when the clouds set up just perfectly.
So many people chase the same coastal locations, it can be hard to stand out.  But I feel this is a unique image that few have made or ever will make, despite the fact that Santee Lakes is a generally beautiful place.
I have spent so many hours at the Lakes walking, hiking, relaxing, feeding the ducks with my daughter, the list goes on.  So it is with great price that I can have an awe-inspiring moment like this to take with me forever.
Thank you for reading, and I hope you my favorite Images of 2016.
Gallery of My Favorite Images Of 2016
T.M. Schultze is a San Diego-based photographer, traveller, and writer. He writes, photographs, and draws things of the outdoors that have inspired humans for thousands of years. He co-authored the Photographer's Guide to Joshua Tree Park which can be purchased here.