Own Your Own Backyard: Great Photography Is Right Where You Live!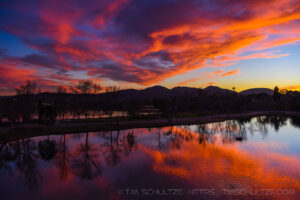 The world is filled with amazing photographs. The greatest photographers in the world have taken photos that we all wish we could replicate. I have been fortunate to visit a few of these locations, like False Kiva, Park Butte, and others.
For most of us though, those scenes will be rarely visited and often longed for.
What is a photographer to do if he or she is only going to visit a few of these scenes?
The key is to own your backyard. The area you live in has numerous beautiful photographic opportunities. You also have an advantage. Having the easy access to the immediate world around you, you are ahead of most of your colleagues in the field.
I have lived in the San Diego area since 1997 and the greater parts of this community have been a subject of intense personal interest since I began my journey into photography. Tourists tend to focus on famous locations like La Jolla Cove and Balboa Park, and that makes sense because they are amazing places.
Being local, I began to look East throughout the rest of the County.
Look to the East nearly anywhere in San Diego, and it is hard not to spot El Cajon Mountain, sometimes called El Capitan. It is a massive and impressive piece of granite. At sunset on a clear day, or during a rare clearing storm, the mountain is quite a sight. I spent a lot of time plotting on Google Maps, driving in the area, and finally arriving at a beautiful overlook above Blossom Valley. After the scouting work, I was prepared when San Diego had a coming storm, and I set up and make several images that went straight into my portfolio.
One of the jewels I found in East County was Round Mountain. Interstate 8 passes just North of the mountain, yet very few stop to see it. At the right spot, the mountain is beautifully framed with the famous Arizona-Eastern San Diego railway passing out of the Carrizo Gorge. In good evening light 30 – 60 minutes before sunset, it is an impressive scene.
These are just two examples. If I was not a long-time San Diego resident, I would not have produced these images. Focusing on my own backyard is a way to keep producing images, to continue pre-visualizing scenes, and keep my photographic skills sharp. You can do it too, no matter where you live.
Start with a pen and paper. Think about your neighborhood, anywhere within an hour's drive from your home. Use Google Maps. Look for interesting features, landforms, and buildings. What is interesting? What is historic? What captures the photographic passion in your mind? Write it down, think about what scene you want.
Maybe you are imaging a winter scene. Even if it is summer, commit to paper and let the idea build in your mind. Be prepared ahead of time. People do make their own luck. You can do it too.
T.M. Schultze is a San Diego area-based photographer, writer, and artist. For a list of his articles, click here. To send him an e-mail, click here.
T.M. Schultze is a San Diego-based photographer, traveller, and writer. He writes, photographs, and draws things of the outdoors that have inspired humans for thousands of years. He co-authored the Photographer's Guide to Joshua Tree Park which can be purchased here.