Best Photographs 2015
A couple of my local San Diego friends, Alex Kunz and Joseph Smith, have made their own Best of 2015 posts with 12 of their best images from this year.  This inspired me to look over my images and come up with a set of my best photographs 2015.  Presented below are some of my best images.
Bixby Canyon Bridge Sunset
The Bixby Canyon Bridge has long been a photographic muse for me, and I return every year to try to get better and better photographs.  This image leads off my Best Photographs 2015 collection.
I began by choosing sunset, and hoping for some good color from the clouds.  I then began timing vehicles from the top right down to the bridge.  This gave me an idea when to open my shutter, because I wanted traffic on the bridge and up the hill (which is South along Highway 1).  Overall, everything came together just how I wanted.
Being a Jack Kerouac fan, I couldn't help but reminisce about his "Raton Canyon" musings in his semi-autobiographical novel, Big Sur.  Death Cab for Cutie's "Bixby Canyon Bridge" is not only their best song, but also another great way I think about the feeling of being there and experiencing a great moment along the California coast.
Sunrise Over Turkey Flats, Joshua Tree
Sometimes, the elements just come together perfectly.  This sunrise was accurately predicted by Skyfire, my friend Matt's weather photography forecasting app.
I left my home at 2 AM to make this image, and was set up with 20 minutes to spare.  The clouds set up perfectly next to Pinto Mountain in Joshua Tree.
Surfer Sunset Cliffs
This photograph was made because a few circumstances came together.  Originally, I was composing an image of just the foreground rock (with its etched-in graffiti) and the beautiful light of the sunset.
All of a sudden, a surfer came to shore right at this point, and stood there, looking at the sunset himself.
Normally, I view this as a person standing in the way of my image, but I realized he made all of the elements come together.  To me, it ties the ocean and the sunset together, and I am glad this happened!
Rainbow Over Borrego Springs
This image was made on a trip to East County during a storm with my friend Chris Horn.  We were heading back to San Diego for a San Diego Photo Club outing at the Scripps Pier.
On the drive up S-22, we had the sunlight fighting through a storm blowing over the Laguna Mountains, perfect conditions for a rainbow.
This image is at least a double rainbow, shot with my 14mm super wide-angle lens.  It looks nice and sunny, but rain was being blown at our backs by heavy winds, and we were fairly wet by the time we finished shooting here at the overlook.
Storm Over Sunset Cliffs
I made this photograph while on a short trip to Sunset Cliffs with my friend Alex Kunz.  This was at the South end of Garbage Beach as the sun was in its mid-afternoon phase.
The light called for a black-and-white image, and I used my super wide-angle 14mm lens to capture as much sky as possible.  It was very dramatic.
We didn't get a fantastic sunset, but being there in the afternoon, we were prepared.
San Diego View From Iron Mountain
When I am hiking, I usually don't take a lot of photo gear with me, but with an unusually clear day in San Diego County, I packed my bulky 300mm lens.
At sunset, the elements came together in a single photograph.  There is so much to see and pick out in this image.
If you view the image from the bottom left diagonally, you get the following in a single image:
Santee Lakes (including my home)
Mission Trails Regional Park (including Cowles Mountain)
Downtown San Diego
32nd Street Naval Station and NASSCO
Pacific Ocean
Coronado Islands (part of Mexico)
One Plane At The Top Right
This was one of the few days I have ever been able to see San Clemente Island from San Diego.  It takes an unusually clear day for this to happen, and it was a great day to make this hike and take this image!
Hawk At Michigan State Museum Of Art
I was in East Lansing, Michigan, this August for a huge Scouting conference.  Because of the work being a staff member, there was virtually no time to get out and shoot.
However, my friend Chris Horn, and I managed to get out for a few minutes at sunset (which is about 9 PM in August in Central Michigan).
The architecture of the Michigan State Museum of Art is very interesting.  There are tons of leading lines and patterns, but being that we were rushed, I really wasn't composing something I loved.  Close to time to pack up, a hawk glided right over our heads and dove into a bush.  You could hear a struggle and squealing.  Running over, we found a dead rabbit (graciously, not pictured here) and the hawk then headed over to a sign post, presumably waiting for us to leave so he could get to dinner.
I don't think the hawk really wanted me to approach so close, but I also think he was hungry.  So I got within a few feet and composed him with the building and the East Lansing sunset.  This image has a "wild but urban" feel to me, and it's probably not a scene most would come up with for one of the major college campuses in the United States.
After we packed up, a couple locals drove by, seeing the hawk, and told us he is a regular in the area, so we were definitely intruding on his turf.  It was a great moment to be there.
Steel Wool Shooting At Fiesta Island
This image was made during a San Diego Photo Club outing led by my friend Randy Miller, so is the best-known steel wool photographer in town.
I requested this location because I wanted to tie in the Sea World fireworks with his steel wool performance.
As it turned out, the Sea World fireworks were quick and abbreviated, lasting maybe 10 minutes, without a huge finale.  However, with the light from Sea World bleeding over Mission Bay, while Randy was spinning, I liked how this came out.
Smoke Over Mt. Whitney
After a great day hiking in the Sierras from Horseshoe Meadows, I came down late and visited Alabama Hills.
Much to my surprise, after the winds shifted at sunset, the clear skies I enjoyed most of the day because dark and dreadful thanks to the Rough Fire.  The Rough Fire took 3 months to put out and consumed over 119,000 acres.
As you can see, the smoke at sunset over Lone Pine Peak, the needles, Muir Peak, and Mt. Whitney was dramatic.  The dissonance was beautiful.  The color was jaw-dropping.  I never want to see something like this ever again, because a huge portion of the Sierra Nevada range will take years to recover.
Camping On The Pacific Crest Trail
I was out camping with my Scout troop on one leg of the Pacific Crest Trail when we stopped to camp over a ledge that had a beautiful view of the Imperial Valley.
I set up my tent right on the edge and at twilight, made my image.  I love negative space.  Images that are too "tight" feel like they need breathing room.  Plus, the light was beautiful, and it brought a sense of open air and space to the image.
It felt like I slept that night, with views for miles and a lot of sky overhead.
Lunar Eclipse From Joshua Tree
The latest lunar eclipse was special for those of us in the Southwest.  The eclipse began near sunset on the Eastern horizon, making it a great opportunity to set up a composite.
Michael Frye also shot this eclipse from Joshua Tree, which I thought was really cool.  His light-painted image was very psychedelic, and with all of the amazing eclipses he has in his porfolio, he had plenty of room to experiment with something new.
I hand-counted the exposure sequences instead of setting up the intervalometer.  Incredibly, being off on those sequences even a few seconds produced several "gaps" in the composite.
I am looking forward to the next round of lunar eclipses, although I don't think we have any visible ones here in the Southwest for a few years.
Fishers Peak Sunset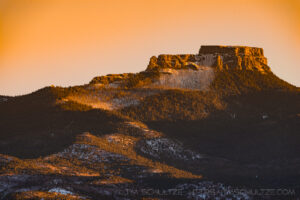 Surprisingly, two of my best images this year were made with my 300mm lens, which is unusual for my landscape photography where I prefer long lenses.
The light was so spectacular though, I just love the result.  The haze really glowed in the Colorado winter sunset, all from my parent's front yard.
Gallery Of My Best Photographs 2015
T.M. Schultze is a San Diego-based photographer, traveller, and writer. He writes, photographs, and draws things of the outdoors that have inspired humans for thousands of years. He co-authored the Photographer's Guide to Joshua Tree Park which can be purchased here.