May 4, 2018

20 years ago, on May 4th, 1998, we registered the domain name www.snakepower.org.  Cahuilla Lodge was one of the first Lodges in the country to have their own domain name (Octoraro Lodge appears to have been the first in 1995 although they are curiously now using a different URL).  In fact, the National OA Website only precedes the Snakepower website by about 6 months.  The Snakepower website may be the oldest continuously operated Lodge website in the country.
On this occasion of the anniversary, I thought I would expand on the origin of the website and where we went from it's beginning.  I had previously written a shorter article on the Cahuilla Lodge website, but I hope this history adds to it.
The Genesis Of A Great Idea
Cahuilla Lodge's web presense actually began in the Fall of 1997.  As I was entering college at San Diego State University, I was just getting into computing, having purchased my first PC with my financial aid money.  My friend, Shawn Kasner, who I had known since Buckskin in 1993, was the Wanakik Chapter Chief.  He also worked for a local ISP in Riverside.  It was his original suggestion at a Lodge Executive Committee Meeting to make a website.
Now, in the mid-1990s, a Lodge website was something a bit futuristic.  A minority of the membership was "online," it was a given that the Call of the Cahuilla newsletter would be mailed to them, and printed flyers were how you promoted an event.  A Lodge website was also expensive.  I seem to remember a cost in the neighborhood of $ 150.00 per month to maintain it with a local company.
110 miles away, in a dorm room in San Diego, I thought I had found a better solution.  I simply made a web page on a place called Geocities.  At the time, the setup was an interesting "neighborhood."  You lived online on a block and had neighbors, and your URL attested to that fact.  I believe our original URL was www.geocities.com/Yosemite/Gorge/3700.  Unfortunately, the Internet Archive does not have a snapshot of the website.
Geocities offered very rudimentary web pages, where you picked a design and then wrote some text.  It was definitely antiquated compared to today's internet.  One thing Geocities did offer was the ability to write your own HTML.  I spent the better part of an entire semester neglecting my studies and right-clicking on web pages to "View Source."  I quickly learned HTML syntax and through trial and error, was making custom pages for the entire site.
Making A Website In 1998 Was A Lot Of Work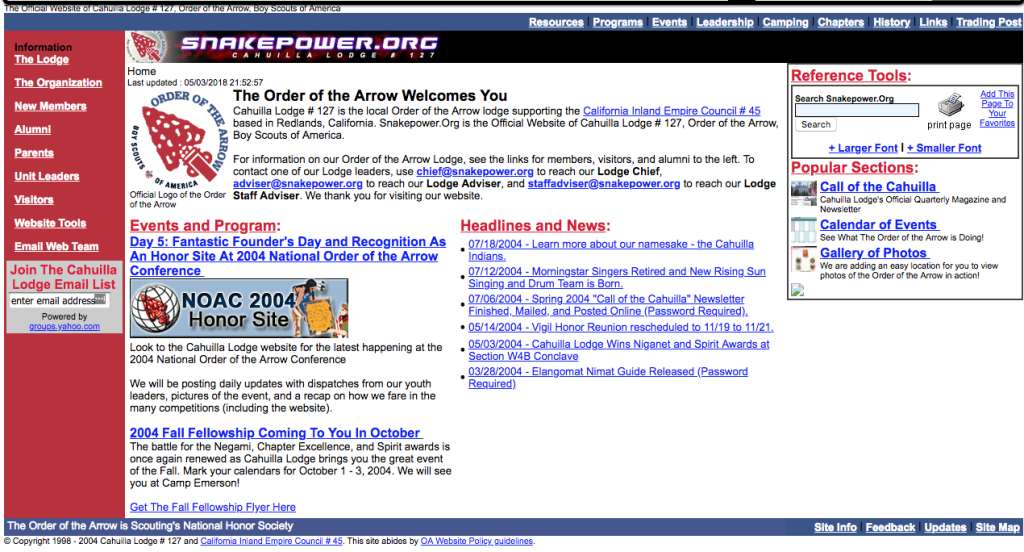 This sparked much more discussion between Shawn and I.  Shawn left to work at a different ISP, and his authority and responsibilities offered him more opportunities to support his own work.  He cobbled together a Frankenstein "server" that we could use for the website.  Shawn set up access to the server and we could log in and update our own pages.  Bob Kelly (dec.), then a Lodge Associate Adviser, offered to front us the cost of the domain registration which I believe was then $ 75.00 per year.
Shawn was also a graphics expert and created many of the logos, banners, and other images that were used by the website for most of these two decades (a jig of many of these images is listed below).
Maintaining A Website Early On
Creating the website was relatively easy.  Maintaining and keeping that website online was a bigger challenge.  Our first issue came when the SCSI hard drives in the Frankenstein server overheated and melted down.  We had to scramble to get the data on a new server with new hard drives.
At some point, we moved to another host online that was terrible and unreliable.  They went down all the time, often for days and days.  It was a real nightmare.  At one point, they had a hardware failure with no backup, and offered us a free year of hosting to stay.  Not a chance.
I remember recounting these issues to a Council Executive Board Member named Sean Scott, who had his own hosting for his clients.  He went on to host the Lodge's website (and websites for the council and camps) for many years.  At that point, technology and hosting were maturing to the point that it could be taken for granted that our website work work all the time.  Thanks to Sean, we had reliable hosting, finally.
One benefit to the website we did not anticipate was augmenting our Lodge's history.  As I have noted in other articles, the Lodge's history in the 1990s was inaccurate and missing names.  At some point, I simply did a data dump on the website and left it there for all to see.  Slow and sure, people from the past began to contact us with information.  Data was updated and corrected.  The history was then expanded after we had dozens of people who began to contribute and widen the history of Cahuilla Lodge and its 4 predecessor Lodges.  There were even Order of the Arrow alumni who rejoined the Scouting movement.
A Passion Project
As the internet became ubiquitous and indispensable to everyone, the priority of the website increased.  The Call of the Cahuilla eventually ceased to be mailed, and people looked online first for information.  Anything out of date brought a quick rebuke.  At the time, blogs didn't exist, and CMS (Content Management Service) programs were in their infancy.  These days, people use WordPress, Joomla, Drupal, and other services that take so much of the manual work out of maintaining your website.  We had to do it by hand.
In the mid-2000s, the website was added to the pocket flaps for Cahuilla Lodge.  This was a polarizing venture, especially among the traditionalists in the Lodge.  It did serve as a good marketing tool, and newly inducted Lodge members knew exactly where to go for information.  The Lodge eventually took the website URL off the flaps, so those issues serve as a nice reminder of just how indispensable the website was.
The website was an Honor Website at NOAC in 2002 and 2004.  In 2004, Cahuilla Lodge had the second-highest score in the country and missed out on being first on some technicalities that weren't very important.  The Cahuilla Lodge website was even used for at least one of the website training classes during the Conference.  We knew our website was getting traction because by the early 2000s we found several OA websites that had used our CSS stylesheet for their own sites.  At first, it was frustrating, but we realized that the Order of the Arrow is built on idea sharing, and if using our stylesheet improved their own web presence, then we we were all for it.
Many people contributed with their time, energy, and heart.  Michael Gollner, Brad Denbo and Chris Horn were two principle youth who did an extensive amount of HTML editing, updating, and creating content.  When I finished as Lodge Adviser in 2009, James Hermes took over the Adviser work for the website.  This was a neat transition because James was also my predecessor as Lodge Chief.  He handed over a good Lodge to me in 1994; I handed over a good website to him in 2009.  Eventually, Michael Hare took over for James as the Website Adviser and has created the current version you see today.  To everybody mentioned in this article, thank you from the bottom of my Heart for being such great Brother Arrowmen.  To those who contributed in some way that I haven't mentioned, I want you to know I am thankful you were able to be part of something great.
Today
Thanks to many advancements in technology, mass adoption of W3C web standards, and applications, making a website is easy.  In my current Lodge, when the youth wanted to make a new site, they had a Weebly website set up in minutes.  It's truly incredible how much technology has advanced.  A standard blog is the perfect way to keep members updated, and this is before even considering the wider implications of social media as a tool to send information out.
This makes the information even more important.  Having removed the burden of worrying too much about the technology behind the website, our youth and advisers can focus on the content.  These 20 years have seen an advance in technology that will be studied for many years, not unlike the changes after the Industrial Revolution.
It is great to look back at the Snakepower website and know how far it has come as a tool to bring Cahuilla Arrowmen together.
Credits
I would like to thank a number of people who were incredibly instrumental in creating, maintaining, updating, and making the Snakepower.org website perhaps the best known in the country.  In no particular order:
Brad Denbo (Youth Webmaster, creator of Elangomat.org)
Michael Gollner (Youth Webmaster)
Michael Hare (Adviser Webmaster)
James Hermes (Adviser Webmaster)
Chris Horn (Youth Webmaster)
Bob Kelly (Patron, Domain Purchasing)
Sean Scott (Hosting)
Shawn Kasner (Co-Founder, Webmaster, Hosting, Graphics)
Tracy Schultze (Co-Founder, Webmaster)
Vinney Williams (Co-Founder – Lodge Chief, Graphics)
Gallery of Snakepower.Org Banners and Graphics Used Over The Years (Click On Any Image To Launch The Gallery)