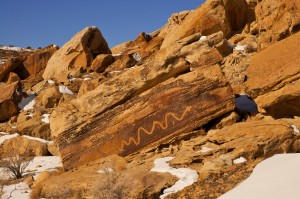 In January 2010, I visited the ArrowCorps5 Manti-La Sal area as part of a longer photography trip with my friend Jeremy Long.
We were unable to visit Joe's Valley Reservoir, as State Highway 29 appeared to be closed for Winter. We also were towing a tent trailer which made any excursion up that canyon difficult.
The first thing we did was visit the rock art sites I missed in 2008, namely the Roosevelt Rock Art Panel and the Molen Reef rock art site that was visited by Cahuilla Lodge. Those are both excellent panels and it was great to see them with no staff duties to worry about!
Beyond that, we drove up and down Buckhorn Draw from the Flat all the way down to the Swinging Bridge. We were pressed for time, it was bitterly cold, and we were headed to Arches National Park, so we did not go up any of the side canyons.
What we found was a canyon with little tamarisk in sight. The slash pilings from all of the cut wood were plainly visible up and down the canyon. Some of the pilings were huge.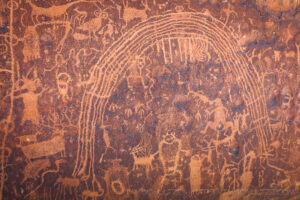 There were some areas where tamarisk were present. In those areas, the pin flags we put down ahead of the Scouts coming through were visible. It seems that coming through, the Scouts missed those pin flags and the QA crews behind them also missed them. Luckily, that seemed to be an issue in only a couple areas that were noted to have very thick tamarisk growth to begin with.
Once we got to the Swinging Bridge, we were at the end of the project. The San Rafael River, which Buckhorn Draw drains into, had huge and massive stands of tamarisk growth. They were simply too large and numerous to even consider for the project. That will take a lot of time and money to remove.