My September 2021 Photo of the Month is WS88, taken in the Wasatch Mountains backcountry during the beginning of autumn.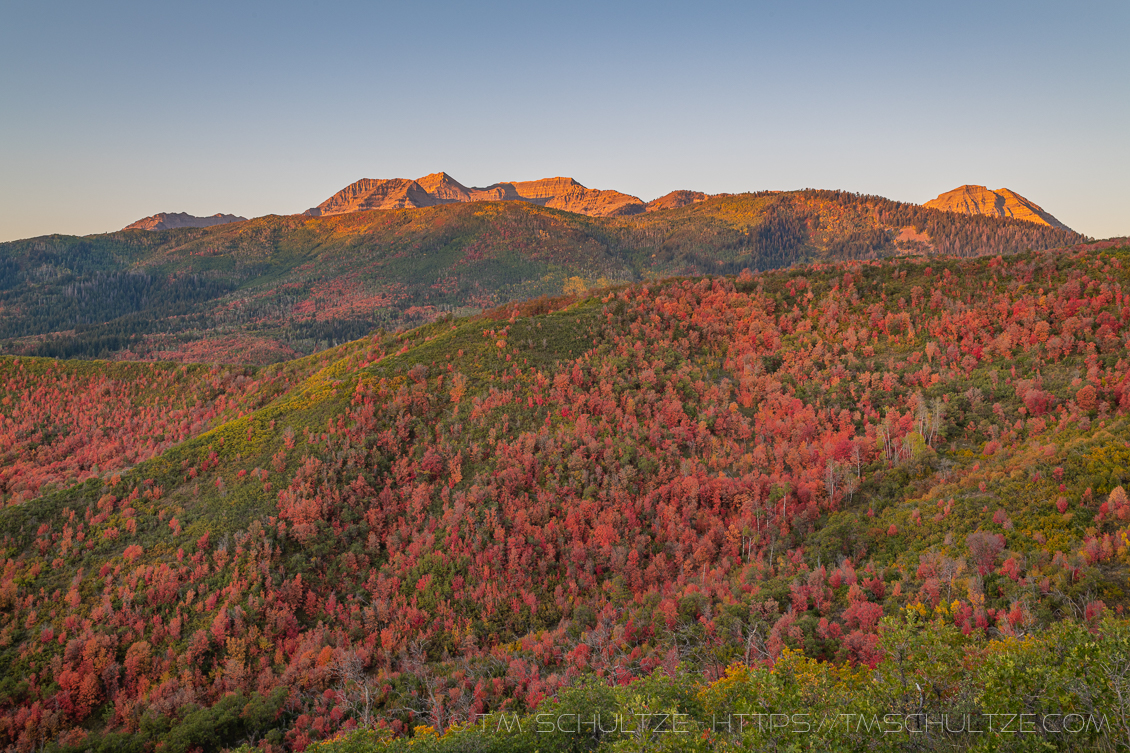 WS88 Background
As you read in a previous post, I am currently in Northern Utah and enjoying the scenery.  Last weekend, however, taught me that California is not the only place with lands being loved to death.  My original intent was to drive and photograph the Timpanogos Alpine Loop.  I did traverse Utah Highway 92, only to find a narrow road nearly bumper-to-bumper with weekend traffic, including dozens of vehicles parked right next to "No Parking" signs.
Realizing that I would need to wait for a weekday, and hoping the aspens and maples held their color for another week, I decided to head back by way of Cascade Springs.  This location, which already has an overflow parking lot, was was too congested.  However, I did find one treat, a really nice turnout with a great view.  The problem was, I was there in the afternoon, with light and haze making conditions difficult.
The next morning, though, I got up at 4:30 and headed back.  I got there about 40 minutes before first light and had plenty of time to set up and wait.  First light came a little after 7:15 AM, which seemed late to me, being used to Pacific Time.  The light first struck Mt. Timpanogos and the alpine light was beautiful.  The mountains on the left and right, well, they are South and North Timpanogos, respectively.
This stand of maples were just beautiful.  I photographed them from first light on the alpine peaks, all the way to brightly lit but with the bottom in dark shadow from a ridge behind me.  I ended up choosing this version as my favorite, with light on the peaks and the top ridge-line.
The maples are heading past peak, and in some other areas they have lost a lot of their leaves.  I was happy to find this stand before they took transitioned to autumn/winter.  The result was WS88 – and I am glad to say that every time you think conditions are not to your liking, there is always an image waiting for you.  Just keep looking and exploring!
Thank you very for reading, and I hope you enjoy the image.
Further Viewing
Photos of the Month Portfolio Gallery
T.M. Schultze Print-On-Demand Fine Art America Store
T.M. Schultze is a San Diego-based photographer, traveller, and writer. He writes, photographs, and draws things of the outdoors that have inspired humans for thousands of years. He co-authored the Photographer's Guide to Joshua Tree Park which can be purchased here.