My March 2022 Photo of the Month is SNT43, taken in a small field of wildflowers at Santee Boulders in the Eastern area of San Diego.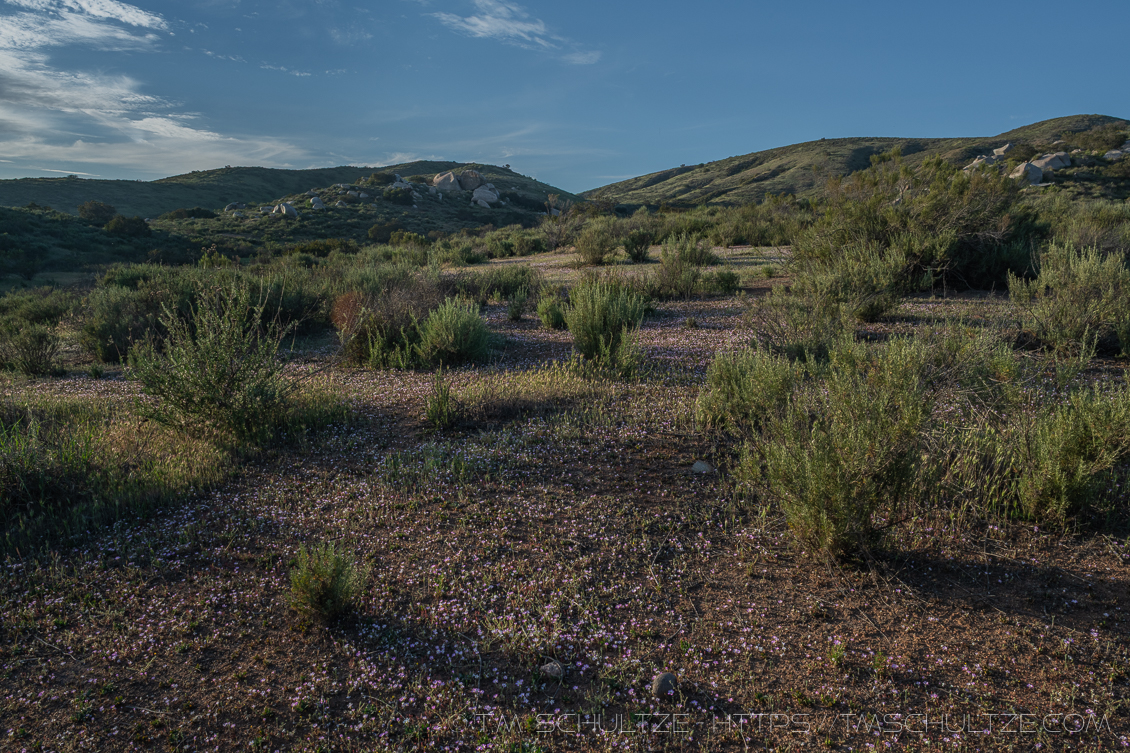 SNT143 Background
Something that attracted me to photography in the beginning was the idea of getting to know nature and the areas I loved even better.  In the nearly 2 decades I have been doing this, that has largely happened.  I mention this, because we once again bashed our internal clocks upside the head by going right back into Daylight Savings Time.  I must say, from the beginning, that I am a bigger fan of Standard Time.  But I will take Daylight Savings Time if that means I can refrain from changing my clock and waking up at strange, disoriented, times that don't work for my body.
This wasn't a thing, of course, prior to the 20th century, and at the 32nd latitude that is San Diego, people could adjust at about 1 minute per day from Winter to Summer.
Are we on the cusp of being on Daylight Time permanently in 2023?  That remains to be seen, but one of the things that has defined March for many years is the time transition that takes a long time to adjust to.
I photographed this area extensively before, particularly in 2019 when we last had a great rain season.  This particular season started with some promise, only to disappoint in the Winter when we entered drought, once again.
This location is near Santee Boulders, where people come to, you guessed it, do bouldering.  People usually park at West Hills Park, along one of the major arteries into town.  Because the approach is along a blind curve with vehicles coming at high speed, the city closed pedestrian crossing from the park.  The boulder people, of course, ignore this and cross anyway.  Somebody will get hit someday.  Even this week, I saw parents crossing with their children.  It is disappointing.
The correct way to cross is to follow Mast Blvd East to the next light at the high school, cross there, then come back West.  It isn't a shortcut, but I enjoy the walk and getting more steps in.  The location of this photo, despite being "in town," is actually San Diego City limits.  This area was supposed to be added to Mission Trails Regional Park as part of the compromise plan when the Weston home development was put in.  I don't know the status of that.  But it would be a nice addition to the Regional park, and I wouldn't mind having the land intended for Fanita Ranch added as well.  SNT143 came about when I did see some flowering, and even better that it was close to home and fit my current travel budget.
The Ground Pink in this photo was much more sparse than in 2019, but we obviously can't have a rain season like 2019 every year.  Let's hope this megadrought abates at some point in our lives.
Thank you for viewing, and I hope you enjoy the image.
Further Viewing
Photos of the Month Portfolio Gallery
T.M. Schultze Fine Art America Print-On-Demand Store
T.M. Schultze is a San Diego-based photographer, traveller, and writer. He writes, photographs, and draws things of the outdoors that have inspired humans for thousands of years. He co-authored the Photographer's Guide to Joshua Tree Park which can be purchased here.