My March 2019 Photo of the Month is SNT27, an image of a beautiful field of Spring wildflowers in Santee.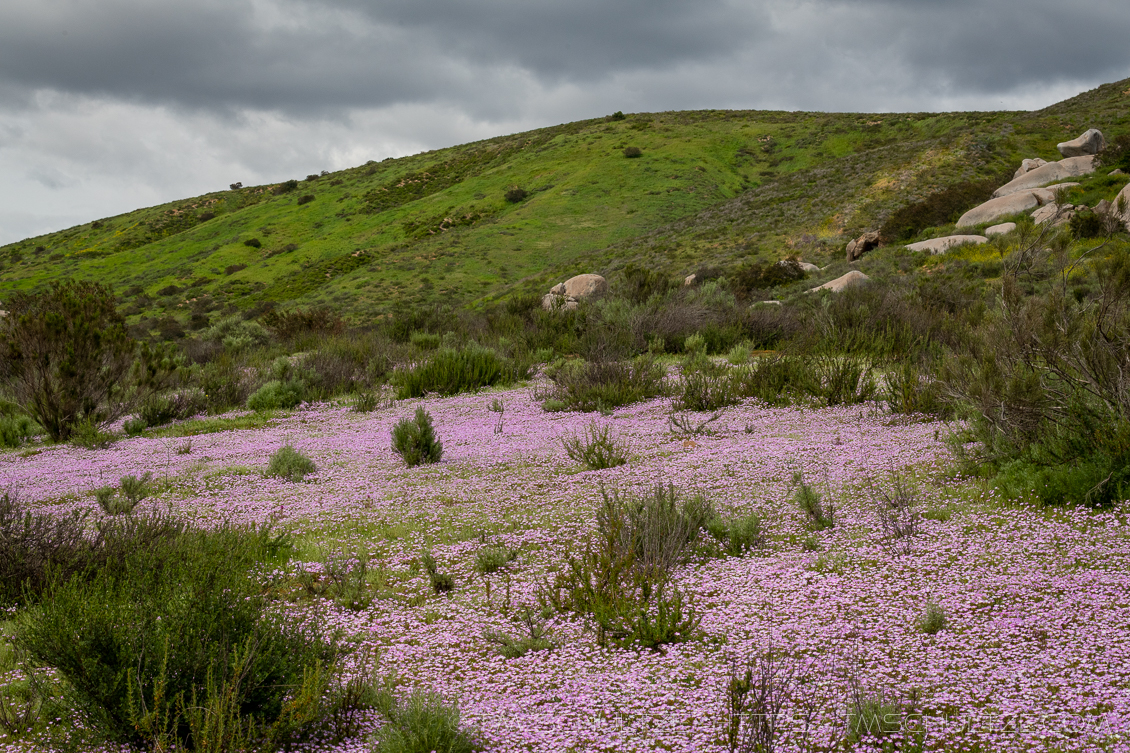 SNT27 Background
As everyone knows, this past rain season was our best since 2005. The result of a wonderful rain season has been the incredible array of wildflowers that have popped up throughout California.
I have lived in Santee for nearly 20 years, and I found this area while driving home. It was one of those, "Did I just see that?" moments in rush hour. I posted an earlier image of this on Twitter and my friend Alexander S. Kunz drove down to check it out again with me. This was one of the largest fields of Ground Pink (Linanthus dianthiflorus) in San Diego County.
Because of changing weather over several days, I went with one of my original "moody" images I created. Others had clear skies, and for some reason, I really found the "pink" to stand out with this cloudy background.
Another bonus was that I got to enjoy this area with my daughter during Spring Break. She appreciated the flowers, enthusiastically learned their names (her Father is not much of a botanist himself), and recalled most of the information she took in! What a great moment to share as a parent.
And what a month it has been. I have taken home so many great moments from Anza-Borrego Desert State Park, Mission Trails Regional Park, San Dieguito River Park, and many local areas. It isn't just the wildflowers (seriously guys, social media shouldn't dictate what you shoot). The greenery in our canyons, plateaus, mesas, and mountains are just astounding. Considering the dieback that will happen as summer approaches, and that familiar dull brown dominates our County, take a moment to stop and appreciate all the green! Some of my favorite photos from the 2017 Spring season where just green hillsides. They're precious, ephemeral, and deserve a quiet moment to be appreciated.
All this being said, I suspect I will be spending the balance of the year processing my March 2019 images that I haven't even had time to get to yet. And April should still be a good and picturesque month!
Trampled To Death
One place I did not visit was Walker Canyon. Growing up in the Inland Empire, we have long been aware that California Poppies do show up in the side canyons of Temescal Canyon. Many are private property, but the one area that became a preserve is now the site of the Poppy Apocalypse.
The sights were beautiful and an incredible example of our State Flower in action. Back in 2005, you could have exited Lake Street and nearly parked by yourself. 14 years later, all manner of urban incivility overwhelmed everything. All manner of rude and inconsiderate behaviors came as people amplified the news of the canyon over social media. What are we doing to our public lands when we have a weekend with more people at a small nature preserve than at Disneyland.
Here's the thing: Walker Canyon isn't special. Before the great migration to California began in 1849, thousands of canyons in Southern California looked like Walker Canyon. What we have done, is create a special moment out of our habit in creating urban sprawl and carving out canyons for roads, homes, ranchlands, and mining. The only thing Walker Canyon had going for it is that it wasn't the canyon that got carved up.
Want to hear more? A number of years ago, I purchased and read the excellent book, "California's Fading WIldflowers: Lost Legacy and Biological Invasions," by UCR professor and researcher Richard A. Minnich. The book is excellent and should serve as a testament to what was, and what will never be again. Those invasives, admittedly, including humans like you and me.
You didn't experience a Superbloom. You experienced an occasional good rain season in the chaparral riparian zone. And what you experienced isn't what it would have been 160 years ago.
These special places are just the last in a dying breed, and our tendency to congregate in herds and love beautiful places to death will ensure these few remaining places fade away.
As always, thank you for reading, and I hope you enjoy the image.
Further Viewing
Photos of the Month Portfolio Gallery
San Diego's East County Portfolio Gallery
T.M. Schultze is a San Diego-based photographer, traveller, and writer. He writes, photographs, and draws things of the outdoors that have inspired humans for thousands of years. He co-authored the Photographer's Guide to Joshua Tree Park which can be purchased here.