My June 2022 Photo of the Month is LJ138, taken at La Jolla Shores during a cool and overcast San Diego morning.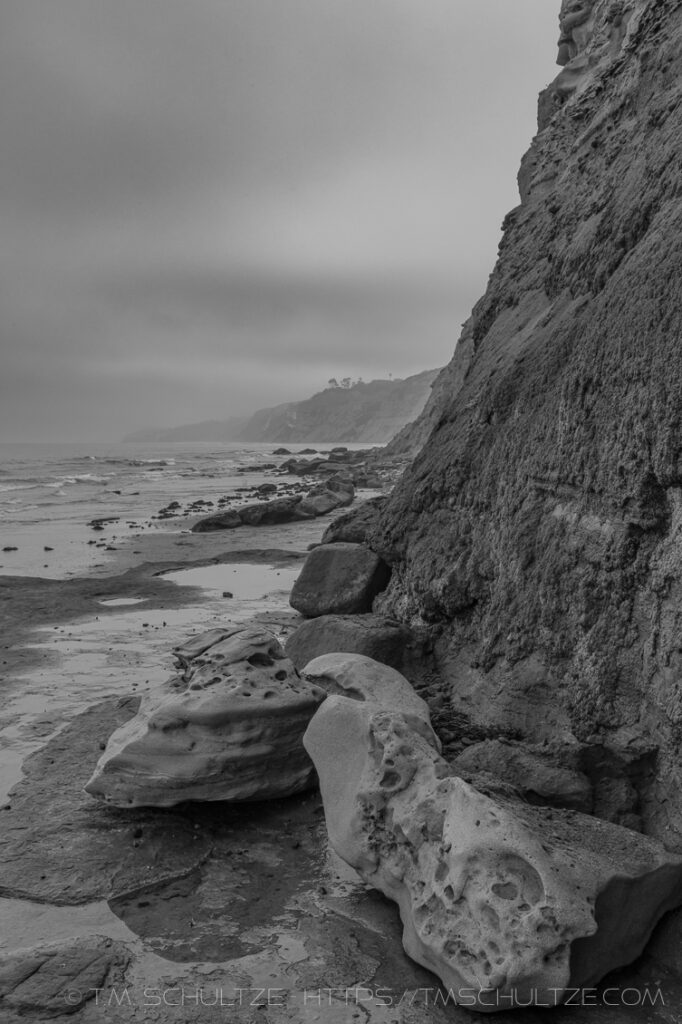 LJ138 Background
Summer is my least favorite season, and Summer weather arrived earlier than wanted and persisted through much of June.  Some minor monsoonal weather showed up in East County, always on a day I was working.  And conversely, the weekends were filled with empty skies and too much heat.
Alas, we found a couple mornings where the onshore flow was making it into La Jolla, and my daughter and I headed to La Jolla Shores.  The Scripps Pier is an easy landmark to photograph, but I wanted to look at more of the coast.  We were near high tide, so we knew we were going to have wet feet.  I have always wanted to walk more of North La Jolla Shores, but with normal socks and shoes, and surf coming in right at us, we found a couple rock formations to hang out and enjoy some peace.
This image was about 30 minutes before the clouds broke up, and I enjoyed the view North, up to Black's Beach and Torrey Pines.
Heading further into Summer, with a drought that shows no end, I can only hope the monsoons come plenty and often.  For a season that I find too warm and stifling, photographing those huge clouds, and maybe getting drenched with a quick rain is the treat of the season.
For now, I appreciate our marine layer, which in temperate weather provides San Diego with some relief from the heat.
As always, thank you for reading, and I hope you enjoyed the image.
Further Viewing
Photos of the Month Portfolio Gallery
T.M. Schultze Fine Art America Print-On-Demand Store
T.M. Schultze is a San Diego-based photographer, traveller, and writer. He writes, photographs, and draws things of the outdoors that have inspired humans for thousands of years. He co-authored the Photographer's Guide to Joshua Tree Park which can be purchased here.