My December 2011 Photo of the Month is Orange Ghosts, an image made at the Temple Rock formation in Joshua Tree National Park.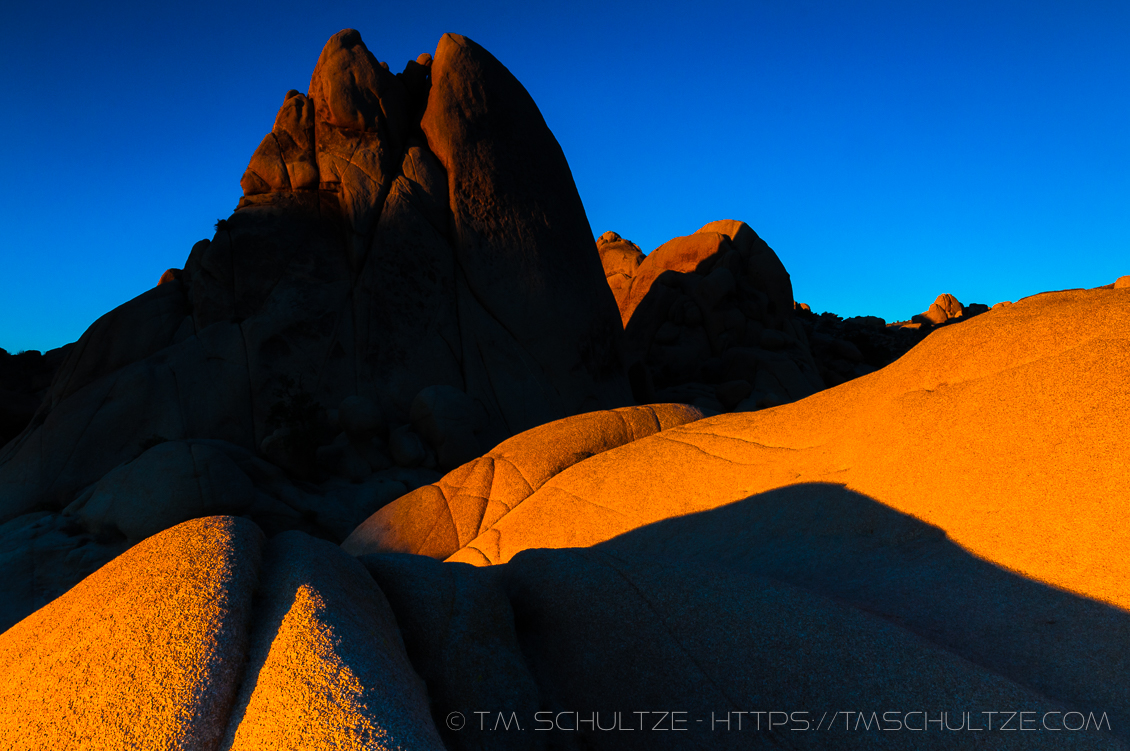 Orange Ghosts Background
I celebrate each Christmas holiday in Joshua Tree National Park, enjoying peace, quiet, solitude, and a chance to enjoy the park without feeling too crowded. Joshua tree has become quite the popular escape for a certain type of outdoor enthusiast. Even with the increased camping, the place still feels quiet, and a welcome respite from the otherwise crowded Winter season.
The most important value in this image was the shadows. To contrast with the beautiful orange color of the first light on the monzogranite, I wanted to make those shadows nearly jet black. Something like Zone 0 or 1 if you are following the Zone system.
This formation is simply perfect. Not only can it be seen as a proper landmark, but the area around it is filled with beautiful leading lines for more compositions than can be imagined.
Because of the Winter season, there was little air pollution to the West.  That is important because with no clouds, the deep and moody blues are a key to balancing the rocky detail in the bottom two-thirds of the photograph.
It was quite cold in this morning, and one of these days I might be smart enough to get some photographer's gloves with the magnetic finger pull-offs.  This was definitely worth freezing my hands for.
As always, thank you for reading, and I hope you enjoy the image.
Further Viewing
Photos of the Month Portfolio Gallery
Exploring Joshua Tree Portfolio Gallery
T.M. Schultze is a San Diego-based photographer, traveller, and writer. He writes, photographs, and draws things of the outdoors that have inspired humans for thousands of years. He co-authored the Photographer's Guide to Joshua Tree Park which can be purchased here.