My October 2020 Photo of the Month is SN22, taken of the Old Highway 40 Rainbow Bridge near Donner Pass in the Sierra Nevada.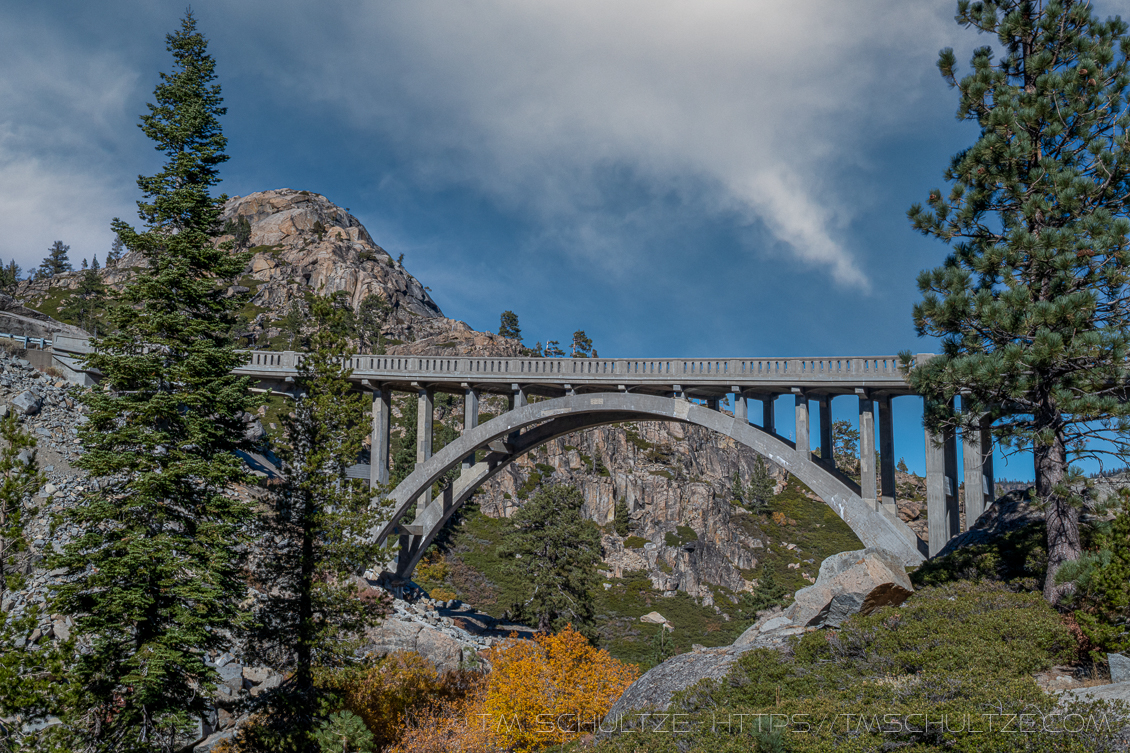 SN22 Background
I was up in Northern-Central California to help my 10 year-old celebrate Halloween. This was a challenge in this pandemic, but we made a most of it. We were able to make a drive to the mountains over that weekend. She usually enjoys sight-seeing with me, and she owns her own (hot pink) Nikon camera.
Normally, we visit Grass Valley. My daughter enjoys the downtown area and visiting the antique shops. We also have family history in the area, including a family grave-site locally. This year, this didn't seem like a great idea, so I looked for overlooks.
As many readers will know, photographing old roads has always been an interest of mine. My main focus is on Old Highway 80 since it is local to San Diego County. But that hasn't stopped me from looking at old sections of US-70, US-60, US-99, and others. Naturally, Old Highway 40's famous Rainbow Bridge was a good choice. The bridge was built in 1926, and I was impressed my kid figured out quickly that made it 94 years old. 1926 would have been about the time that the old Lincoln Highway was formalized into US Route 40 until Interstate 80 would later open and create a "new" Donner Pass.
Experiences
I experienced something here I hadn't really felt in a long time: genuine cold. At the time I made this image, it was about 43 degrees and a little windy. I was elated that my daughter really enjoyed the view and she thought the bridge was cool (me too!). Because a child's attention span is short, though, I didn't take a long time to compose. This spot was just above the creek-bed that the bridge spans, with a view of School Rock and the mountains above Truckee in the distance. I even got to point out a rock climber to my daughter. She couldn't believe he looked as small as an ant, and was moving fast. I told her rock climbers are definite athletes.
I have fretted my inability to travel to new places. If anything, the biggest reason SN22 ended up my Photo of the Month is the energy I felt from being out somewhere new. Let's hope, post-pandemic, more of these new experiences await.
As always, thank you for reading, and I hope you enjoy the image.
Further Viewing
Photos of the Month Portfolio Archive
T.M. Schultze Fine Art America Print-On-Demand Store
T.M. Schultze is a San Diego-based photographer, traveller, and writer. He writes, photographs, and draws things of the outdoors that have inspired humans for thousands of years. He co-authored the Photographer's Guide to Joshua Tree Park which can be purchased here.