I don't know much about zombies. What I do know is that they are neither alive nor dead, they are nearly impossible to kill, and they will eat your brains. That does seem to apply to the oft-proposed Fanita Ranch development in Santee.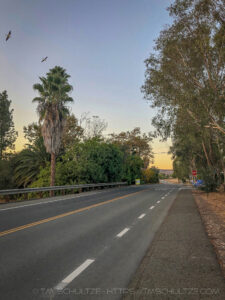 Fanita Ranch was originally approved in 1986 and originally would have brought as many as 24,000 residents to the City of Santee.
34 years later, no homes have been built, but not for lack of trying. Santee Lakes Boulevard, then accurately named because of Santee Lakes Recreation Preserve, was changed to Fanita Parkway, renamed for a development that does not exist.
Fanita Parkway, pictured to the left, is as close to a country road as it gets in Santee. This was technically a private road owned by various succeeding property developers. When they stopped doing any road maintenance, the City had to step in and do it themselves.
Urban Sprawl Is An Issue
Much has been learned in the past three decades. Conflagrations like the 2003 Cedar Fire laid bare the truth that urban sprawl created an urban-fire complex that was very dangerous. Local endangered species were running out of area to survive. And succeeding homebuilding companies railed to build Fanita Ranch. Perhaps it was time to consider cancelling it as well?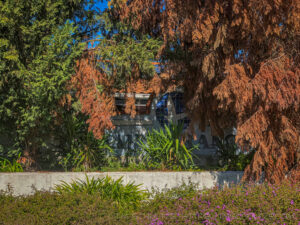 The current owner, HomeFed Corporation, purchased the 2,600 acres of land in a bankruptcy auction for 12.35 million in 2011. They stand to make a lot of money from the build-out.
This may help to explain why some of the measures taken to ensure the development was approved are more than the residents would like.
We know what people were really watching for in the 2020 election, but it can be argued the local measures and propositions held equal importance. Santee as a city has been dealing with competing ambitions to grow and stay rural. At the center of that issue is Fanita Ranch, a supposed master-planned community at the North end of town. It is a typical urban sprawl build-out, with significant issues with the environment, traffic, and fire protection.
Santee has interesting geographical constraints that make further urban sprawl especially problematic. Topographically, Santee sits at the North end of the El Cajon Valley. The mountains that define Mission Gorge Regional Park ring the City from the West to the North.
Rush Hour
Most of Santee's job/career market though, has moved Northwest to areas like UTC/Miramar/Sorrento Valley. This creates a huge burden on State Highway 52, a freeway that was nearly obsolete the day it opened. This issue drives much of the issue. People in Santee don't want 8-10K people moving in when the freeway is already nearly unusable.
Recently, 4 of the 5 members of the Santee City Council approved HomeFed's proposal with some small changes. Not coincidentally, those 4 members were all financially supported by the homebuilding industry.
Community citizens then sought a signature drive to undo this approval and submit it to a City vote. This became a huge issue, as people set out to collect signatures only to be repeatedly accosted by HomeFed employees.
HomeFed is also running ads on Instagram, if Facebook can determine that your location is in Santee. That is a great place to check the comments, which are universally negative. Nobody wants this development, especially the people who will have to bare the consequences of the influx of people.
The builder is basing many of their ads on "Improvements to Highway 52" which I have previously covered as completely disingenuous. A 10 million dollar project that involves ripping out one of the only protected bike-ways and is a drop in the bucket on a highway needing over 1 billion in improvements is going to accomplish nothing.
Preserve Wild Santee has been instrumental in helping to reverse the decision to approve this development. Over 6,300 people signed the petition, and it could have been many more without the interference of the builder. Their actions toward PWS could not be more clear – they are aware that if the development is on the 2021 ballot, it will fail.
A Larger Mission Trails Regional Park
My idea – sell the land or donate it to enlarge Mission Trails Regional Park. Not only would this create even more true open space in a valuable wildlife corridor, but it could help absorb theoretical lands available from Marine Corps Air Station Miramar. Beautiful chaparral like upper Oak and Spring Canyons could yet be available to the people. And I bet it could be sold for conservation at a profit. What do you think, Nature Conservancy?
I have no doubt that an effort to circumvent the referendum or lie their way through getting it approved and built will happen. So will 2021 be the year that the Fanita Ranch Zombie will be finally put to rest? 30 years has taught one not to hold one's breath.
Local Images
Santee Image Archive (Non-Portfolio)
T.M. Schultze is a San Diego-based photographer, traveller, and writer. He writes, photographs, and draws things of the outdoors that have inspired humans for thousands of years. He co-authored the Photographer's Guide to Joshua Tree Park which can be purchased here.