My November 2021 Photo of the Month is ME140, taken during a brief period of beautiful clouds before a clear, Santa Ana condition occurred during the rest of the month.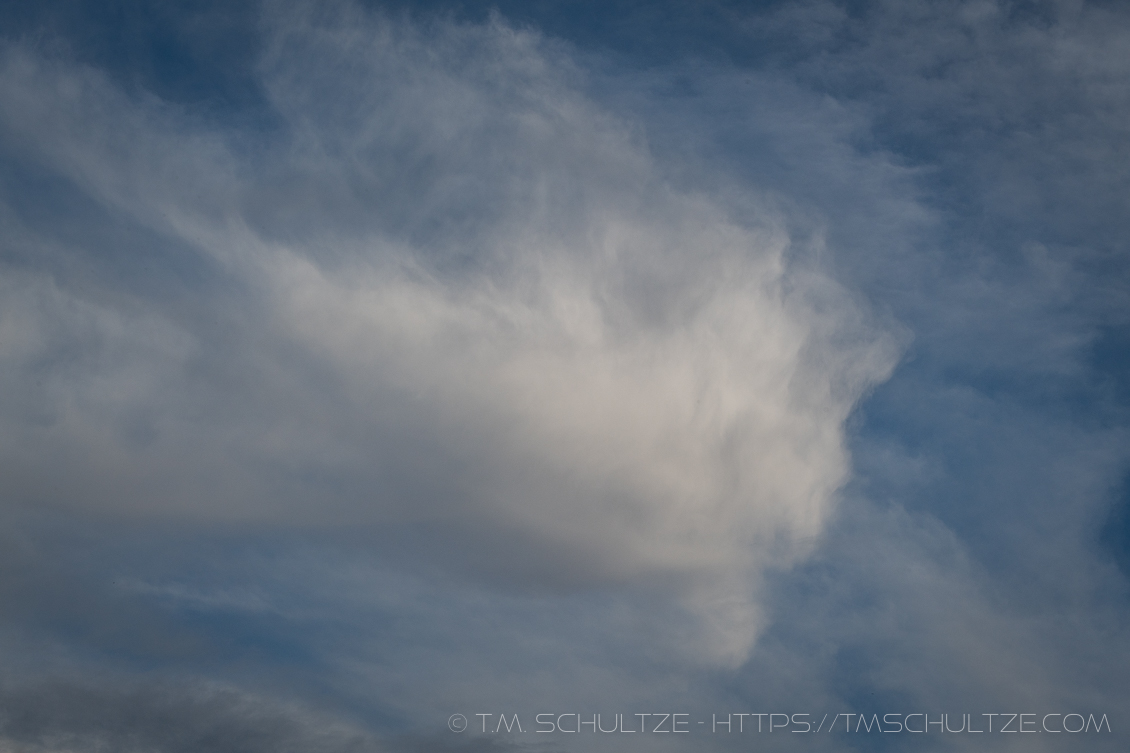 After a lot of travel in September and October, I did not travel in November.
In my never-ending quest to confound my friends, I continue my cloud photographs.  I have spoken previously about my Modern Equivalents Portfolio, so I won't cover the details too much here.
With Santa Ana conditions prevailing in these parts for a good portion of November, a cloud like this is a welcome respite to the dreary clear (and dry) expanse.  Although it has been good for seeing Venus, Saturn, and Jupiter lined up this month, which admittedly has been nice.
It isn't enough to just point your camera to the sky and click.  I often look and take some time to think about what about balance the frame, what is the best angle, and what to keep and leave out.  Yes, even a cloud requires composition.
La Niña conditions have set it, so we are getting "mild" weather with little precipitation, while BC and the Pacific Northwest is getting drenched.  We could use a little of their atmospheric river, just a little.  We also went back to "Standard" time this past month, and I still haven't adjusted.  It really isn't too much fun to finish working for the day, and see that it is already getting dark outside.  While I may complain in March about the "spring forward," I do think "daylight" time is much better here.
As always, thank you for reading, and I hope you enjoy the image.
Further Viewing
Photos of the Month Portfolio Archive
T.M. Schultze Fine Art America Print-on-Demand Store
T.M. Schultze is a San Diego-based photographer, traveller, and writer. He writes, photographs, and draws things of the outdoors that have inspired humans for thousands of years. He co-authored the Photographer's Guide to Joshua Tree Park which can be purchased here.