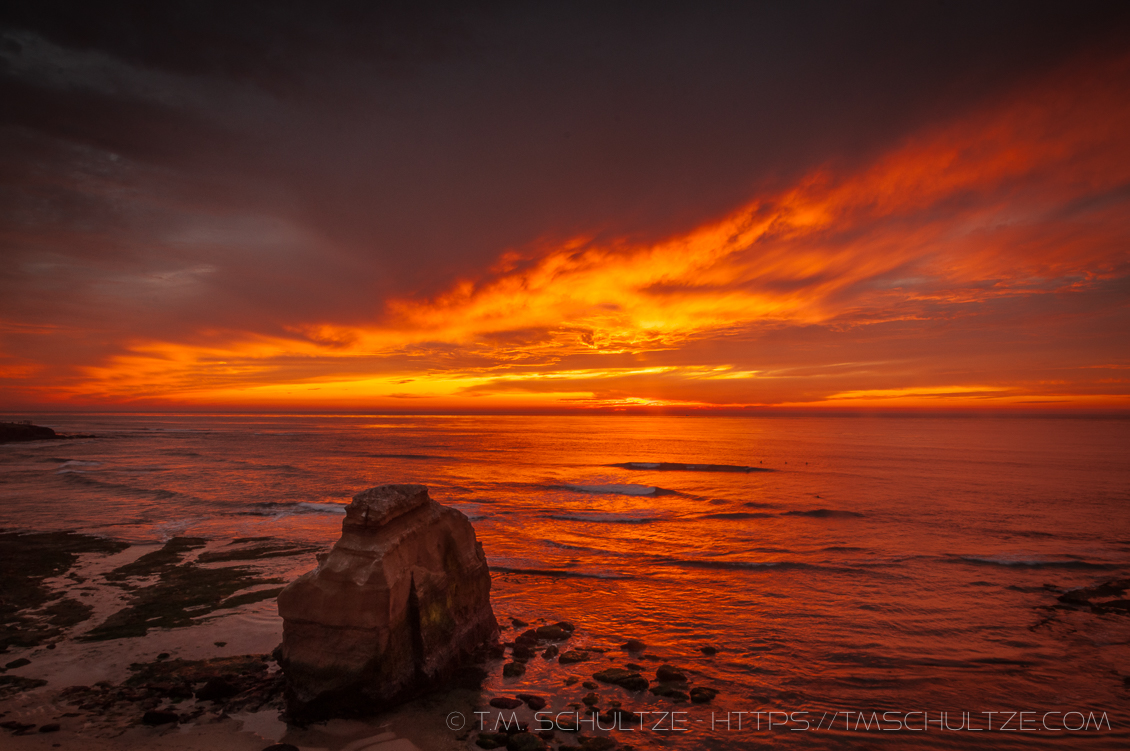 San Diego rang in 2010 with one of the most spectacular sunsets I have ever seen.
I went to Sunset Cliffs Natural Park to enjoy the first sunset of the year.  The clouds looked good, and as the sun was getting close to the horizon, I noticed a lot of glow on the clouds.  The light was getting through.  This was a definite hint to stay for the show.
Moments after sunset, the clouds really started to show some color.  This usually takes some time, so I knew something spectacular was about to happen.  The color was so red and so bright that it reflected on everything.  People admiring the light had red faces.  The windows on the homes along Sunset Cliffs Boulevard were bright red.  It was astounding.
If you look closely at this image, you will see several surfer relaxing on their boards, enjoying the scene from the ocean.  I wonder what they thought of the show, what that moment of nature and peace meant to them.  Was it different from me standing on the cliffs above?
My favorite image of the night is the one presented here.  It shows Ross Rock and spectacular color.  As the light began to fade, there were spectacular dark clouds contrasting with all that color.  To me, that is the strength of this image.  Dark with light, blending together.
A friend of mine sent me a message later in the evening saying that I shoot Sunset Cliffs all the time, so if I missed the show tonight, I really messed up.  I immediately sent him my first edit in Lightroom.  No, I didn't miss it.
Clouds this bright and this red require a lot of water vapor.  This doesn't always happen in our region because the Mediterranean climate is generally arid.  That is one reason that we cherish these events when they happen.  Thankfully, I was at Sunset Cliffs and waiting for the light.
Thank you for reading, and I hope you enjoy the image.
Further Viewing
T.M. Schultze is a San Diego-based photographer, traveller, and writer. He writes, photographs, and draws things of the outdoors that have inspired humans for thousands of years. He co-authored the Photographer's Guide to Joshua Tree Park which can be purchased here.