I took a trip to the Laguna Mountains during a San Diego storm, hoping for some dramatic weather up in the mountains.  I didn't get what I wanted, but I still ended up with some fun images I wasn't expecting.
Sometimes, the clouds make it over Laguna Crest and provide cloud cover for the Borrego Desert. I've written about this before, and it was indeed one of those days. I didn't see anything that inspired me photographically, so I did the next best thing. I took a long nap in my car. It was quite nice and relaxing.
It became clear to me, though, that I wasn't going to get any dramatic weather up in these parts.  A great sunset also wasn't likely here.  So I began my drive down the hill and out to Interstate 8.  What I wasn't expecting was some nice color and more precipitation as I got lower in elevation.
On To Wildwood Glen Lane
With water out and about, one of my old stomping grounds along Old Highway 80 was particularly nice.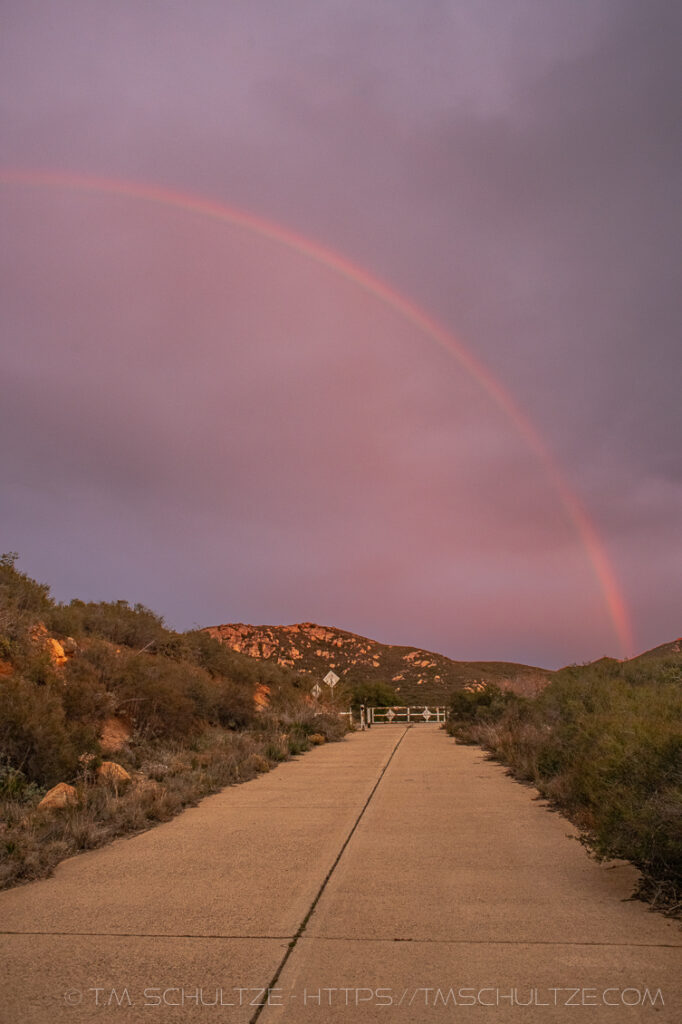 I actually tried to get a full panorama of the rainbow over Old Highway 80, but with the falloff and distortion that is native to any wide lens, the associated stitching curved what is actually a straight line where the concrete was poured.  So I decided that would not work and this half rainbow is what you get.
With a modern sense of travel, it is difficult to imagine that this 2-lane road service all West-East traffic from San Diego to Yuma.  This wasn't a proper "sunset," but I enjoyed watching the light fade, with some pretty storm clouds.  Just when the light was nice and golden, all of a sudden, it was gone!
Further Viewing
T.M. Schultze Fine Art America Print-On-Demand Store
T.M. Schultze is a San Diego-based photographer, traveller, and writer. He writes, photographs, and draws things of the outdoors that have inspired humans for thousands of years. He co-authored the Photographer's Guide to Joshua Tree Park which can be purchased here.