Since the pandemic began, I have severely cut back on my intra-County travel for photography.  Even with life slowly opening up, I haven't been out as much as usual.  What follows is a roll-up of some recent experiences in our beautiful Laguna Mountains.
Visiting the Laguna Mountains
My first visit was during a storm blowing over Laguna Crest, as you may have seen in my May Photo of the Month, LM118.  I also submitted LM117 to my Photo Club's month Photo Quest, Seeing The Light, which I will describe below.
LM117
Alex, our President, asked for a May image where light was the subject.  I used a planned traditional 6×17 pano to compress the viewpoint, and allowing the Laguna Mountains to be dark so the lower Borrego desert could shine.  This image, like LM118, was created in 50mph+ sustained winds and required me to use my entire weight to keep the tripod down and in place.
I only processed 2 images on this trip, as conditions got worse and visibility quickly was down to nothing along Laguna Crest.
My next trip up to the Lagunas was much different. We had prevailing overcast conditions. These were light clouds though, which is some of the most difficult light to shoot in. People severely underestimate how many stops of light are present in bright overcast conditions. This makes it difficult to create good images. While I started with some of my usual imagery, I quickly realized I would need to do something a little different. As you read below, you will see some of that progression as I moved along Sunrise Highway.
LM119
This is from the lower Sunrise Highway overlook down to Cottonwood Creek.  This is a typical scene I seek.  I also have photographed something similar so many times before.  I needed to do something different.  This time, I created a large panorama from two images.
The sense of scale is interesting to me.  I don't perceive this area as this wide, but I realize that I am looking from one mountain North of this point all the way to a smaller hill that Sunrise Highway curves around.  Doing something like this gives me a much different sense of a place.
This was a typical mountain scene for me though, and conditions would be much more challenging.
LM120
This overlook is from the 3rd Turn-Out overlook as Sunrise Highway ascends and turns South as it heads to the community of Mt. Laguna.  I have always struggled with this overlook.  It needs some drama in the sky because the topography is subtle.
Overcast weather is subtle.  I like this image, but I also knew my additional stops on Sunrise Highway would mean I needed to think a little differently about the images I wanted to create.  This is a single-exposure image, and I had an idea that I would need to rethink that strategy later along the crest.
LM122
This area I call Storm 2, because it is not the official Storm Canyon Parking Area, which I like to avoid.  This is always a great spot to get a couple good views of Hayes Peak and Monument Peak, 2 of the more notable high points of the Laguna Mountains massif.  The "Crest" is clearly visible from the steep transition from mountain forest to lower desert.  The clouds were high enough and strong enough to push through the rain shadow.
LM123
This is another image from Storm 2, and I certainly have enough images of Whale Peak.  I tried something different, adding in some of the terrain that eventually builds to Garnet Peak in the North.  Sometimes, just changing your angle can make a big difference, and I needed to de-emphasize Whale Peak as my subject with very flat light on it.  Plus, the mountain foliage was so green, it demanded emphasis.
LM127
This is where light was really getting challenging.  Our modern cameras have range that people used to dream of.  Still, in these conditions, getting bright greens and avoiding highlight clipping was near impossible.  This is a single exposure, but you can see that the highlights are very bright.
I still enjoyed this image enough to export it though, as I felt the brights to the West weren't a huge distraction.  Some people immediately choose to make this a black and white, but with the land this green, you are losing something when you go to monochrome.  This image still works for me, even in the imperfect light.
LM130
This is where I changed tactics.  First, I had to consider the scene.  I have long photographed the overlooks of Sunrise Highway.  That's been documented plenty.  I needed to think differently.  The first thing that came to me were the subtle side canyons along the highway.  They were often beautiful, and with all the foliage health, I knew this had to be my new plan.
With the harsh light, I started creating a bracket of images.  Many people use the bracket feature on their cameras (which is fine, learn to use it if you don't know how!), and dial the exposure difference and number of images.  For me, I have learned to instinctively just use my dial in 3 1/3rd increments, that I just do it manually.
Even with 3 exposures, this blend is still very bright!  People really underestimate the contrast in these scenes.  When you do expose to the right, you also run the risk of having a very dark foreground.  Even though you can "bring up" the shadows, you introduce a lot of noise to the image, and when you fix the noise, you soften the foreground.  With Lightroom's Photo Merge being so easy and foolproof, you have no excuse.
LM131
This image is looking further "up" canyon.  I also created this image with 3 exposures, although you can see that once the sun went behind a partial darker cloud formation, it was easier to lighten.  The mood remains the same, a cloudy but bright sky with a lush chaparral/mountain forest.
LM132
This image is looking directly "down" canyon.  The 3 exposures were easier to work with with the Sun off to the right of the image.  These hills in the Laguna Mountains are rugged but tame.  This is the near the source of a watershed that eventually drains into Pine Valley Creek and the Sweetwater River.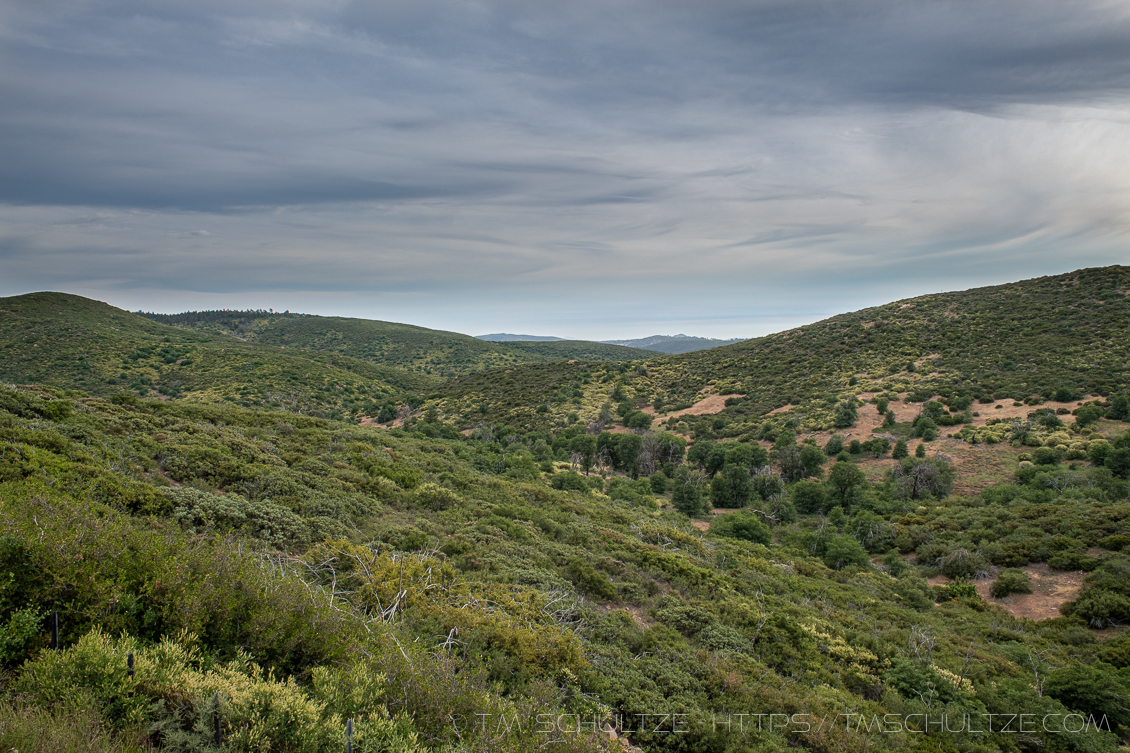 LM133
This image required some contemplation.  This is the entrance to Indian Creek, which flows through the small Laguna Indian Reservation and is another source of the Pine Valley Creek/Sweetwater River system.  I realized that 3 exposures into that difficult light would not get the job done.  This time, I went with 5 exposures, starting with +2 down to -2 in 1-stop increments.  This allowed me to power down the sun, but allow the foreground to carry proper exposure.
This very small group of survivor trees have always intrigued me, as they somehow survived the Cedar Fire of 2003 and the Chariot Fire of 2013.  As you see to the left, many others met their demise in those incidents.  Very sad.
LM135
Of course, I couldn't help but try out some black and white.  This is a panorama of 9 images that were stitched together in Lightroom.  The issue is that they were single exposure images, making for a sky that was washed out.
Black and white can help with this, sometimes.  I included it because I enjoyed the detail of the survivor trees, as well as the dead wood to the left.  I have found a lot of enjoyment working with black and white the last few years.
LM137
This is the last of the bracketed images I made.  In this case, I also used 5 1-stop increments.  This section is a little different than the ones above at Indian Creek.  This time, the hill is my subject, supported by the dead wood of a perished forest.
I have looked through my old images, and I don't know that I have any in a pre-devastation phase.  I suspect it was quite beautiful at the time.  It is hard to see here, but the forest is recovering, on time scales that humanity doesn't quite grasp.  With less intervention, it will return to a forested state.
I was also pleased with the result.  The clouds had more definition and detail in this photograph, and I think it accents the mountain hill very well.
Some Additional Thoughts
There is far too much dogma in photography these days. This goes far beyond things like the "Rules."
This is an expectation of what is and isn't a good photograph. Red sunsets are nice, I have plenty of them. But too many think red clouds are more important than thought, contemplation, study, and composition. I can scroll through red sunsets on Instagram any time I want. They have almost no effect on me anymore.
The images I study, the ones I want to view with attention and intent, they are composed for that purpose. This was just a trip to the Laguna Mountains, but I had intent.  To create something that will give you pause and make you look deeper.  Have I achieved that?  Well, once I have put the work out there, it is now you, the patron to decide.
There is power in having the capacity to get a person to cast aside the distractions and be attentive to your work. That is my goal for photography.
Thank you for reading, and I hope you enjoy the images.
Further Viewing
Laguna Mountains Portfolio Archive
T.M. Schultze Fine Art America Print Store
T.M. Schultze is a San Diego-based photographer, traveller, and writer. He writes, photographs, and draws things of the outdoors that have inspired humans for thousands of years. He co-authored the Photographer's Guide to Joshua Tree Park which can be purchased here.