My July 2017 Photo of the Month is Kwaaymii Point Monsoon, taken in the Laguna Mountains East of San Diego.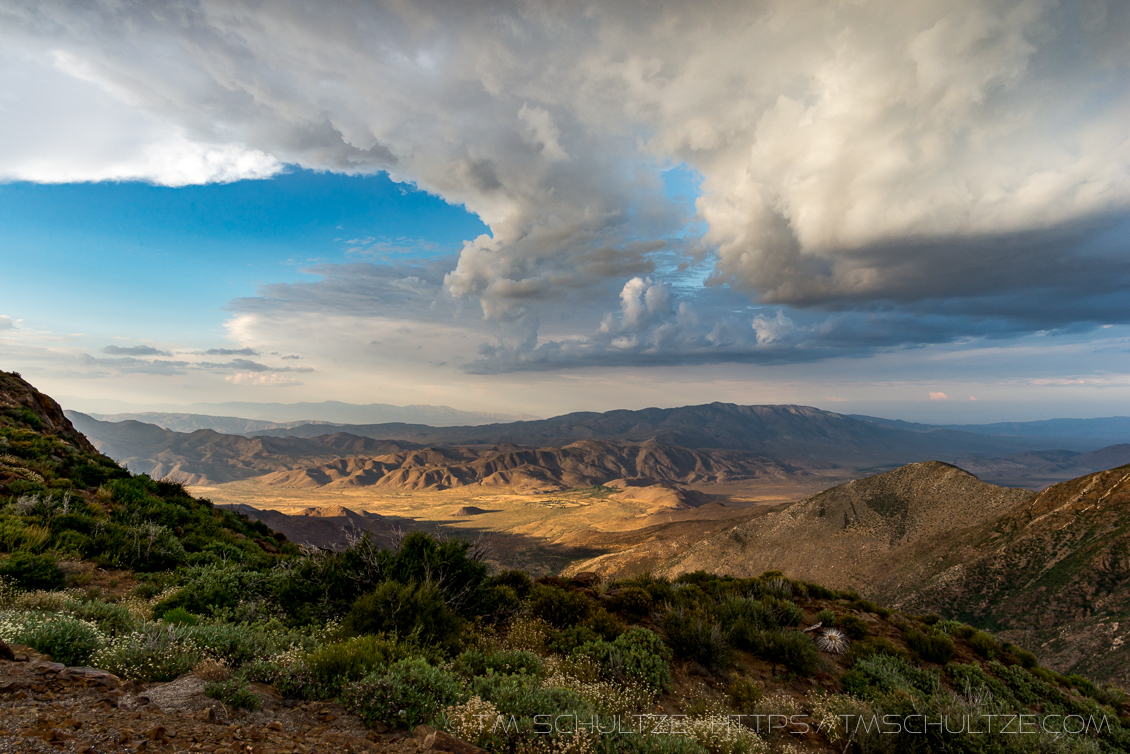 Kwaaymii Point Monsoon Background
In July, the Summer monsoon conditions begin. Watching the weather forecast carefully, my friend Tom Applegate and I were certain this evening would be perfect to find some dramatic weather.
We were not disappointed. Although the Laguna Mountains are transversed by Sunrise Highway, I have made a lot more sunset images from the roadway. Kwaaymii Point is one such vantagepoint, with good views into Anza Borrego, Highway S-2, Blair Valley, and Whale Peak.
The clouds were incredible, and we were greeted with beautiful shadows and momentary light shining on the valley below.
It even rained on us, and incredibly, we could hear the very loud raindrops for a good 15 seconds before they finally fell on us. It was a very slow-moving storm.
We only saw a single bolt of lightning (to the North), so after driving up and down the highway, we headed after sunset to dinner in Alpine. This was a "school night" and I had to be at work early the next morning, but these Summer evenings out in East County are always worth it.
August should be even better! There will be an even better chance of getting dramatic monsoonal conditions in the Imperial Valley, and a good chance of capturing lightning. I also hope to make a family trip to Colorado which will hopefully give me a couple days with some of the best summer weather in the United States.
As always, thank you for reading.
T.M. Schultze is a San Diego-based photographer, traveller, and writer. He writes, photographs, and draws things of the outdoors that have inspired humans for thousands of years. He co-authored the Photographer's Guide to Joshua Tree Park which can be purchased here.