My August 2017 Photo of the Month is August Mushroom, an image made during monsoon conditions along San Diego County's Sunrise Highway.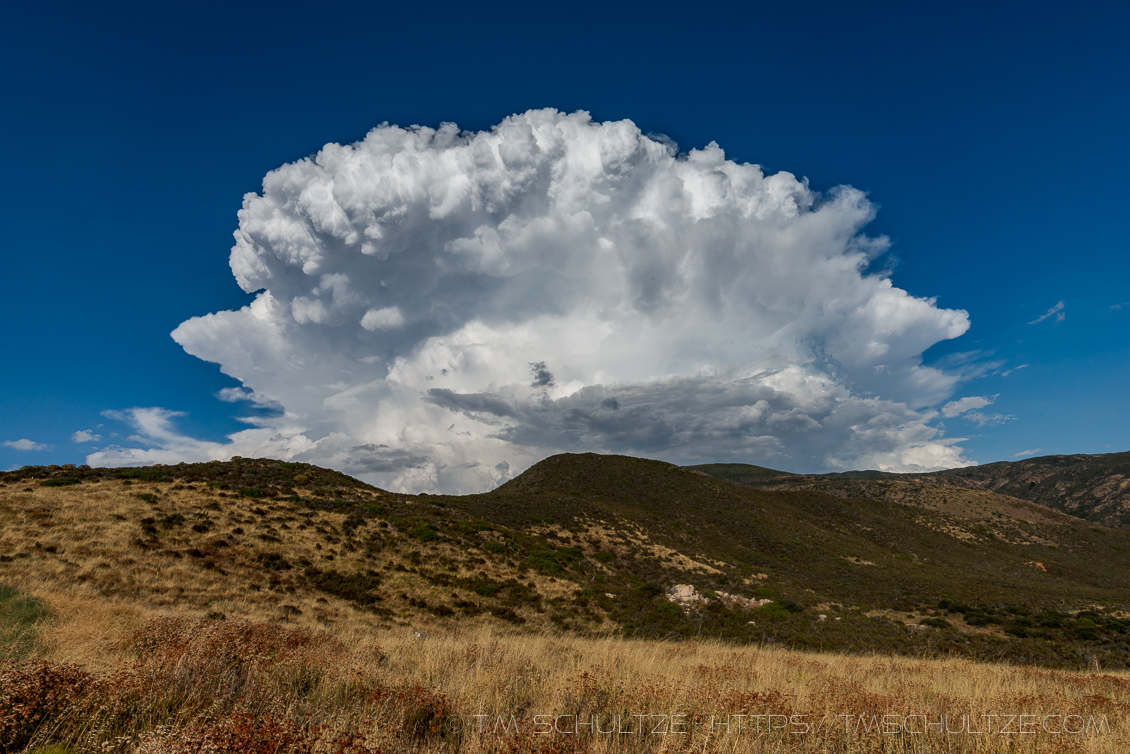 August Mushroom Background
I went with my friend Tom Applegate to a trip up the Laguna Crest on Sunrise Highway, my favorite road in San Diego County.  We chased this one picturesque cloud for a couple hours.  It started as a booming cumulonimbus cloud, and as the afternoon progressed, the wind beat it up and spread it apart.
This image was taken at the lower end of Sunrise Highway, about 4,000 feet, at the first canyon overlook above Cottonwood Creek.  The clouds at this moment, just looked perfect.
People have been studying and describing clouds for thousands of years, and starting with Alfred Stieglitz, they have been photographing them (See my Modern Equivalents portfolio for for my favorite images of just clouds).
Some might quibble that this image doesn't have a foreground.  I hear this a lot from photographers.  I tend to agree with what I have read from Bruce Barnbaum, who I will paraphrase by saying that a foreground should only exist if it adds to the image.  In this case, with the principle subject being a beautiful cloud formation over the Laguna Mountain hillside, I think an endless search for a foreground would detract from the image.
A foreground for the sake of a foreground is mechanical and robotic, not art.
I also processed this photograph in black and white.  I liked both, but after showing both images to my good friend Alex Kunz, he thought the color was better because the red and gold hillside better illustrated the month of August.
As always, thank you for reading, and I hope you enjoy the image.
Further Viewing
Photos of the Month Portfolio Gallery
T.M. Schultze is a San Diego-based photographer, traveller, and writer. He writes, photographs, and draws things of the outdoors that have inspired humans for thousands of years. He co-authored the Photographer's Guide to Joshua Tree Park which can be purchased here.