My August 2019 Photo of the Month is LM111, taken from San Diego County's beautiful Garnet Peak in the Laguna Mountains.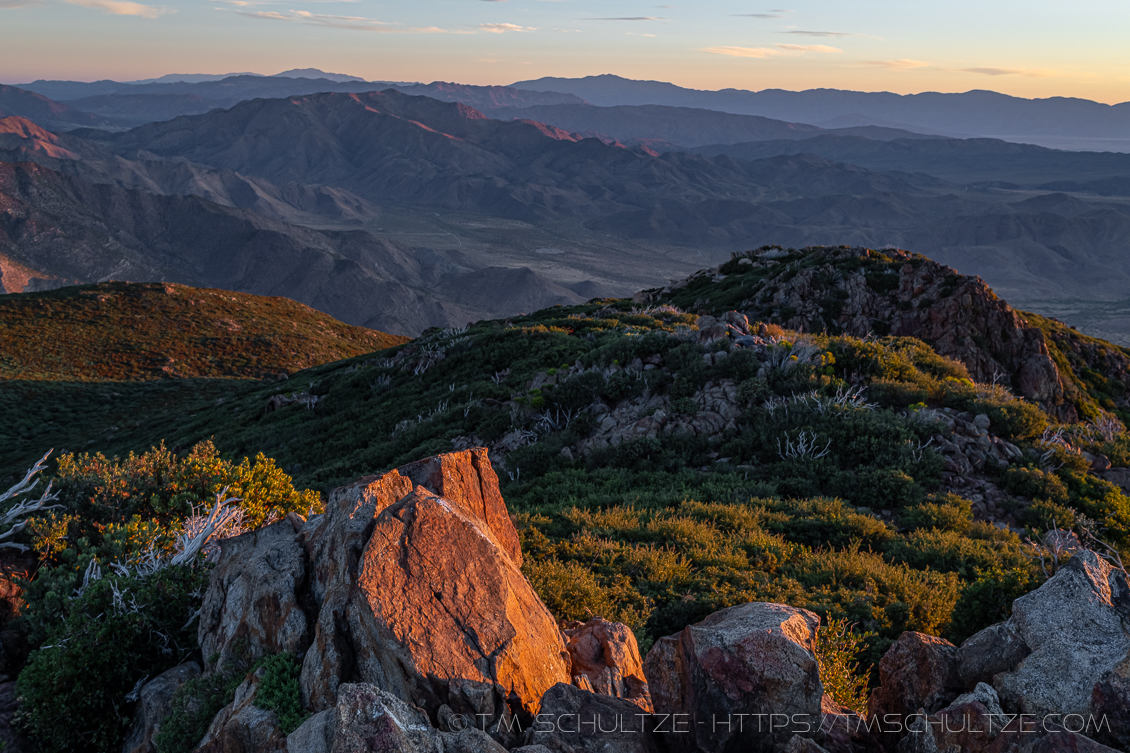 LM111 Background
Garnet Peak is my favorite high point in San Diego County, so when my friend Alexander S. Kunz suggested we shoot from the top at sunrise, I was in (see his fantastic image from the peak here).
There are many reasons I love Garnet Peak. It has a beautiful profile (see it from Foster Point from my September 2018 Photo of the Month). Garnet Peak (not to be confused with Garnet Mountain to the North) is convenient for a quick trip, since the hike from Sunrise Highway or the PCT is not too tough. The top truly is a peak, a small rock outcropping, and not a rounded hill.
The view, of course, is what makes it most spectacular. On a clear day, you can see East all the way past the Salton Sea to the Chocolate Mountains that demarcate the San Andreas Fault. To the West, you can sometimes see all the way to the Pacific Ocean.
Rain Shadows
The thing about the Laguna Mountains that most captured my imagination was the rain shadow. My first experience was many years ago with my friend Mark Stickel, when he suggested a hike up Monument Peak. I was struck with the green verdant Laguna Mountain forest (now largely a ghost forest due to fires), which strikingly and immediately transitioned to the stark (and dry) deserts of lower Anza Borrego.
The transition has always captured my imagination, and that is one of the things I've always wanted to capture in my compositions. Here, I used the forest outcroppings as my colorful foreground, and let my image reach for the bare, brown (but beautiful) deserts behind it (here is a favorite Black and White example of the rain shadow in effect).
We didn't have the clouds we were hoping for, but there was enough water vapor in the atmosphere to give us some nice color. It proves, even if you have a somewhat clear sky, all you need to do is adjust.
Huffing and Puffing
This image also made me realize I wasn't feeling right. As I mentioned to Alex when I reached the summit, I had lost a lot of my balance and equilibrium. I wasn't used to experiencing vertigo. I have some work to do in losing weight, but I knew this felt different than the normal huffing and puffing.
After I got home, I determine that something was definitely wrong. Sleep had been non-existent since that Thursday. Here I was on Sunday up at 4 AM and my body was trying to get my attention. I really didn't come to terms with it until Sunday evening when I headed to the hospital. My body is feeling a lot better now, two weeks later. I am still trying to figure out what happened. More tests are coming. I just wanted to mention to those reading this: listen to what your body is telling you. Many of the symptoms I was feeling had been around for months and I just ignored it. Don't do that! Get it checked out.
As always, thank you for reading, and I hope you enjoy the image.
Further Viewing
Photos of the Month Portfolio Gallery
San Diego's East County Portfolio Gallery
T.M. Schultze is a San Diego-based photographer, traveller, and writer. He writes, photographs, and draws things of the outdoors that have inspired humans for thousands of years. He co-authored the Photographer's Guide to Joshua Tree Park which can be purchased here.