The Mad Platter, my favorite record store back home in the Inland Empire, is now closing permanently due to consequences of the COVID-19 pandemic.  I am very sad about this, and I wanted to take a few moments to thank the store and its employees for nurturing my interest in music.
Learning To Love Music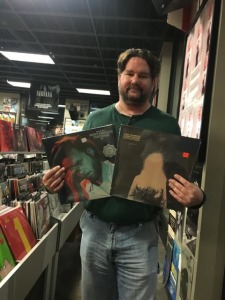 For the last 20 years, the Mad Platter sat near the entrance to the University Village shopping center in Riverside.  And while at some point there were more-mainstream music shopping options that came and went (places like Best Buy, Sam Goody, Blockbuster Music, Tower Records, etc.), none of them equalled the experience of visiting a genuine record store.
If you lived in Riverside's greater orbit and loved music, visiting the Mad Platter was always a great experience.  It was here that I learned to look past easy, established acts like Red Hot Chili Peppers and AC/DC, to find really unique music that wasn't fed to you by the radio station.
The coronavirus pandemic has exacerbated a pre-existing issue for record stores:  changes in the modern economy were threatening their existence.  Even Hollywood's Amoeba Music, the largest music store in the world as recently as this March, is "temporarily" closed.  If it ever opens back, it will be in a different location and may not have the 250,000 titles it once boasted.
People in the 2000s stopped buying music and were either downloading it illegally off the internet, or were later signing up for streaming services that didn't pay artists much and threatened retailers.  There was a bit of a renaissance as the renewed popularity of vinyl brought more people into record stores, me included, but any changes to the economy were going to be a challenge to overcome
That Mad Platter is closing just a couple weeks before Record Store Day is truly sad.  The day was started in 2008 to help music lovers realize the value of their local record store and give them their business to keep these local treasures open.
Teaching The Kids To Love Music
I will always cherish a unique experience with this store I had as a parent.  My daughter loved coming to the music store with her Dad.  Whenever we went back to the Inland Empire to visit family or do some of the kid activities she enjoyed up there, I usually timed our visit to hit the Mad Platter right at opening1.
She loved to be my helper, insisting on carrying my selections around the store as I looked through every aisle.  I remember a couple employees chuckling as my daughter pointed to a random CD, saying, "Daddy, what about this one?"  She wanted me to pick the ones with interesting album covers.
Another time, I remember her yelling "We are at the music store!" as we came in and an employee saying, "Good to teach them to love great music while they're young!"  I could not agree more, and now, this is something we won't get to do anymore.
One time, I was at the counter ready to check out, and she spotted a CD with Tinkerbell on the cover.  She thought it was a movie, and I tried to explain to her that it was only a CD with music.  She was undeterred, and I am the owner of a CD with Disney princess cover tunes because I could not go home without her taking home a CD for herself.
A Fond Farewell, Mad Platter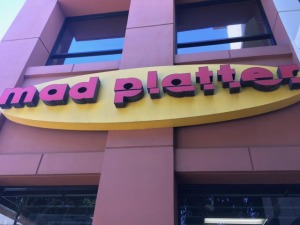 The Mad Platter was also a great place for music discovery.  In one corner of the store, they had several "listening stations."  You could put on a pair of headphones and switch between a number of CDs in their changers.  Because of this, you often didn't have to blindly make a selection and get buyer's remorse.  Many of my purchases were by simply listening to their artists of the month and heading over to the aisles find that album.  I am going to miss that experience.
Their sister store, the original Rhino Records in Claremont, appears to be staying open.  I do hope they can make it through the pandemic and be an occasional visit for me, even if it is a little out of my usual route.  M-Theory and Lou's Records here in greater San Diego are great,  but because of location and my visits "back home," it is the Mad Platter that flutters my musical heart.  Not to be too hyperbolic, but losing this store does feel like losing a loved one.
Finding Something Unique – A Story
I wanted to close with one of those truly unique moments visiting the Mad Platter. The store employees often commented how interesting it was that I walked in holding my phone in the air. What I was doing: I had the Shazam app opened so I could pick up what they were playing in the store. They always had something pretty unique and often, the type of tunes I wanted in my collection. I remember finding musical acts like Warpaint, M83, Phantogram, and many others simply by hearing them overhead in the store.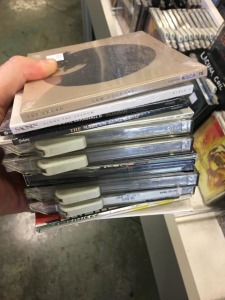 In this particular case, I heard something that blew me away immediately!  I was completely transfixed. In this case, Shazam didn't identify the song. I asked the guy at the counter and said it was Eno/Hyde. It was lost on me at first, but this was a Brian Eno album featuring Karl Hyde of Underworld. Wow!
I almost ran to the rack starting with "E" and located "Someday World," by Eno and Hyde. When I went to check out at the counter, the same guy looked at the disc and said, "Hey, just so you know, they just released 2 albums. This one doesn't have your song on it."  The album I needed was High Life, instead.  I was crestfallen, because I already knew that record wasn't in the Brian Eno section.
Well, I wanted that song really bad. The guy quickly realized they only had 1 copy in the store, the one he currently had in the CD changer. He offered to sell me that CD on the spot and I think I said "YES!" mid-sentence when he asked. He then found the jewel case and stopped the music.  In the eerily quiet din, sent me home with that album for $ 11.99.
That is the only time I have ever been inside Mad Platter with the music off. Now, the music has been turned off forever. One of the greatest songs of my adult life would not be with me without these guys. Thank you, Mad Platter, for all the great sounds, good people, and amazing memories.
Now, let's close out with that song. I can't separate this track from the record store I bought it from.  I am sad, but grateful.  We can't help but be propelled into the future, but that doesn't mean the past wasn't important.  I look forward to playing this beautiful tune a lot this weekend.  I hope you can spare 9 minutes to enjoy it with me.
T.M. Schultze is a San Diego-based photographer, traveller, and writer. He writes, photographs, and draws things of the outdoors that have inspired humans for thousands of years. He co-authored the Photographer's Guide to Joshua Tree Park which can be purchased here.