Right Outside My Front Door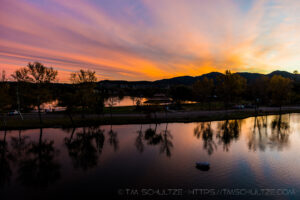 I am privileged to live next door to Santee Lakes, which I have mentioned numerous times.  It is a great place for walking, wildlife, and peace.
The Mast Blvd bridge over Lake 2 is an easy and great place to make quick photographs when the light is setting up nicely, and it takes me about 30 seconds to get there.  Why not use what you have to work with to make images?
There are so many days that I find myself so busy, I just can't make it out to the most strategic locations in
San Diego County for sunsets.  At this time of year, I am typically getting home from work as the sun is going down.  Timed right, this takes only 15- 30 minutes and I immediately get knew images for my portfolio.
Some nights, I just walk out on my patio, look West, and know I picked a great place to live.  It is easy, peaceful, satisfying, and gives me unique images that most people don't have access to make.  And with the light like this, you can't lose.
These nights are simply inspiring, and all I had to do was look outside.  One doesn't need to live on the Coast to have a picturesque place to enjoy every night.  Santee Lakes has been a wonderful neighbor.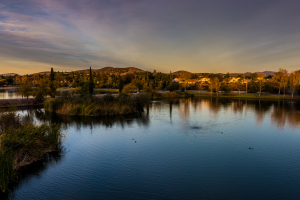 Winter light can be so beautiful in San Diego, and with the presumed oncoming El Nino season, this is a great time to be making images.  People can be obsessed with the trendy photo locations, but sometimes just opening your front door with camera in-hand is all you need.
Thank you for reading, and I hope you enjoy the images!
T.M. Schultze is a San Diego-based photographer, traveller, and writer. He writes, photographs, and draws things of the outdoors that have inspired humans for thousands of years. He co-authored the Photographer's Guide to Joshua Tree Park which can be purchased here.