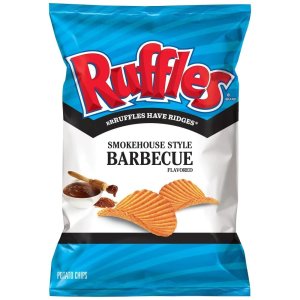 This is the complete and unassailable ranking of potato chips, one of the best creations in the history of humanity and one of the things I am most passionate about in life.  Failure to agree completely with this list means you are totally wrong and there is no hope for you.  This is like my complete and unassailable list of overrated rock bands, but in chip form.
Without further ado, here is the true and correct Chip List.
Smokehouse Barbecue Ruffles (and they don't make them anymore!)
Nacho Cheese Doritos
Chili Cheese Fritos
Cheetos
Ruffles Original
Lays Hickory BBQ (mediocre replacement for Smokehouse Barbecue Ruffles)
Fritos
Funyuns (I hate onions and stand by my hypocrisy)
Ruffles All-Dressed (so you can remember you wish you had Smokehouse Barbecue)
Cheetos Flaming Hot
Kettle Brand Sea Salt
Kettle Brand Sea Salt & Vinegar
Lay's Barbecue
Pringles Barbeque
Pop Chips (All Flavors)
Boulder Canyon Hickory Barbeque (also a Kettle-like chip)
Kettle Brand Salt & Fresh Ground Pepper
The rest of Kettle Brand's chip lineup
In fact, throw in everybody else's kettle-cooked chips
Doritos Taco Flavored
Any kind of baked potato chip (basically)
Any kind of basic tortilla chip (including Tostitos Original)
Pringles Original
Lay's Classic (Really, its just an incomplete Ruffle)
Doritos Spicy Nacho (Just get the Nacho Cheese)
Ruffles Cheddar Sour Cream
Lay Honey Barbecue (Nobody asked for this)
Fritos Flavor Twists Honey BBQ (more honey….we don't need this)
Cool Ranch Doritos (It's ongoing popularity means this blog was needed to hate on these thoroughly medicore chips)
Kettle Brand Jalapeno
Lay's Sour Cream and Onion
Pringles Sour Cream & Onion
Cheetos Puffs
Bugles (just dumb)
Sun Chips (All varieties)
All chips labelled French Onion
Takis
Veggie Chips
Thank you for reading this important and absolutely correct listing of chips.  You are welcome to leave a comment below, but keep in mind that if you disagree, you are just letting the entire world know you are wrong about chips.  I mean, not as incorrect as Tim Marchman's forever awful list of Cereals, Ranked, but still incorrect nonethless.
T.M. Schultze is a San Diego-based photographer, traveller, and writer. He writes, photographs, and draws things of the outdoors that have inspired humans for thousands of years. He co-authored the Photographer's Guide to Joshua Tree Park which can be purchased here.