My October 2013 Photo of the Month is Reclaimed, a photograph made at the historic Buckman Springs Bottling Plant off Old Highway 80 in San Diego County.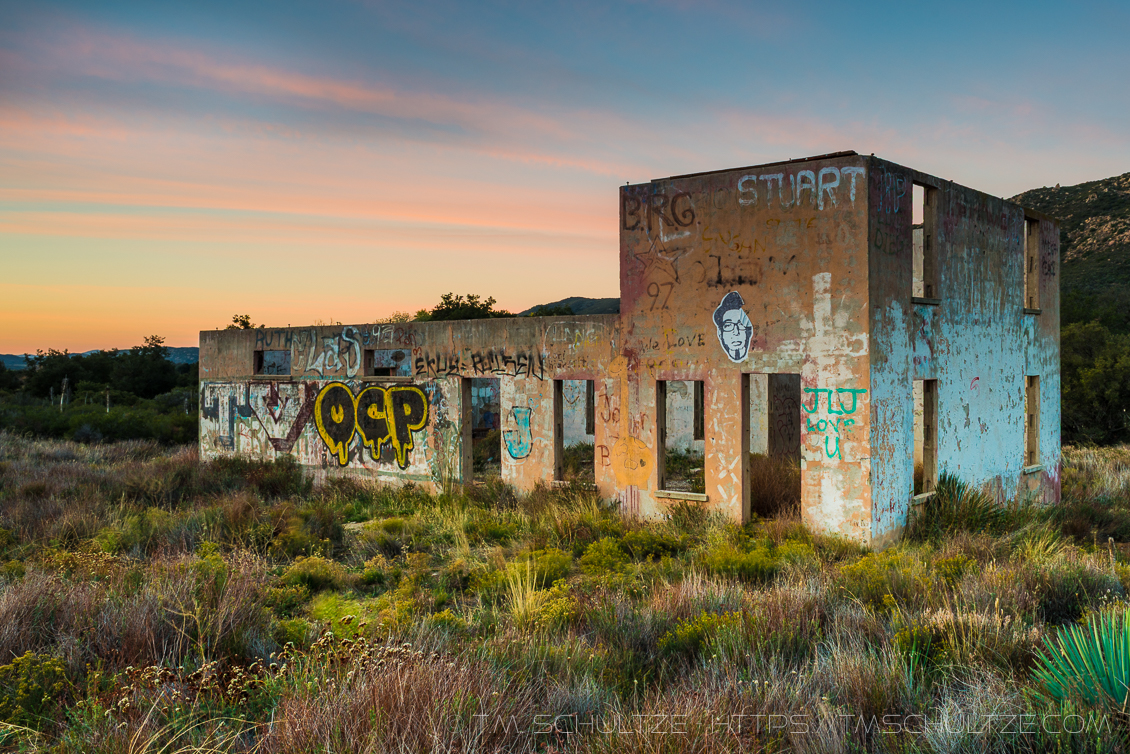 Reclaimed Background
My photography project on Old Highway 80 continues with an image I just made before sunrise at the Buckman Springs Bottling Plant.  This abandoned building was a soda water plant by Amos Buckman before he went out of business.  It appears that the spring near Cottonwood Creek where he obtained the alkaline water is now dry.
This building has been a prominent abandoned building along Old Highway 80.  While ostensibly private property, access is easy and just off the road.  The building has been left to the elements, just as Amos Buckman's home to the North (and his grave to the South which reportedly was accidentally dug up during the building of Interstate 8).
While Highway 80 was a West-East highway, this section is unique in that it runs almost directly South.  Because of that, it is tough to get a direct angle for sunrise, and Buckman Mountain on the other side prevents a good sunset.  I split the difference, photographed to the South, and caught some color during early twilight.
Graffiti is not ideal, especially where vandalism can destroy the historic value of a place.  However, it appears this building remnant has been intentionally left to be recovered by nature.  As a result, you can come here any time and the photo is a little different.  New things get painted, new stickers are applied, and more of the building falls to the effects of time and gravity.  Amos Buckman's business wasn't successful, and while historic, I don't see a California Historic Marker coming here anytime soon.
As always, thank you for viewing, and I hope you enjoy the image.
Further Viewing
Photos of the Month Portfolio Gallery
Old Highway 80 Photographic Project
T.M. Schultze is a San Diego-based photographer, traveller, and writer. He writes, photographs, and draws things of the outdoors that have inspired humans for thousands of years. He co-authored the Photographer's Guide to Joshua Tree Park which can be purchased here.