My March 2016 Photo of the Month is Badwater Rainbow, an image made in Death Valley National Park during a storm.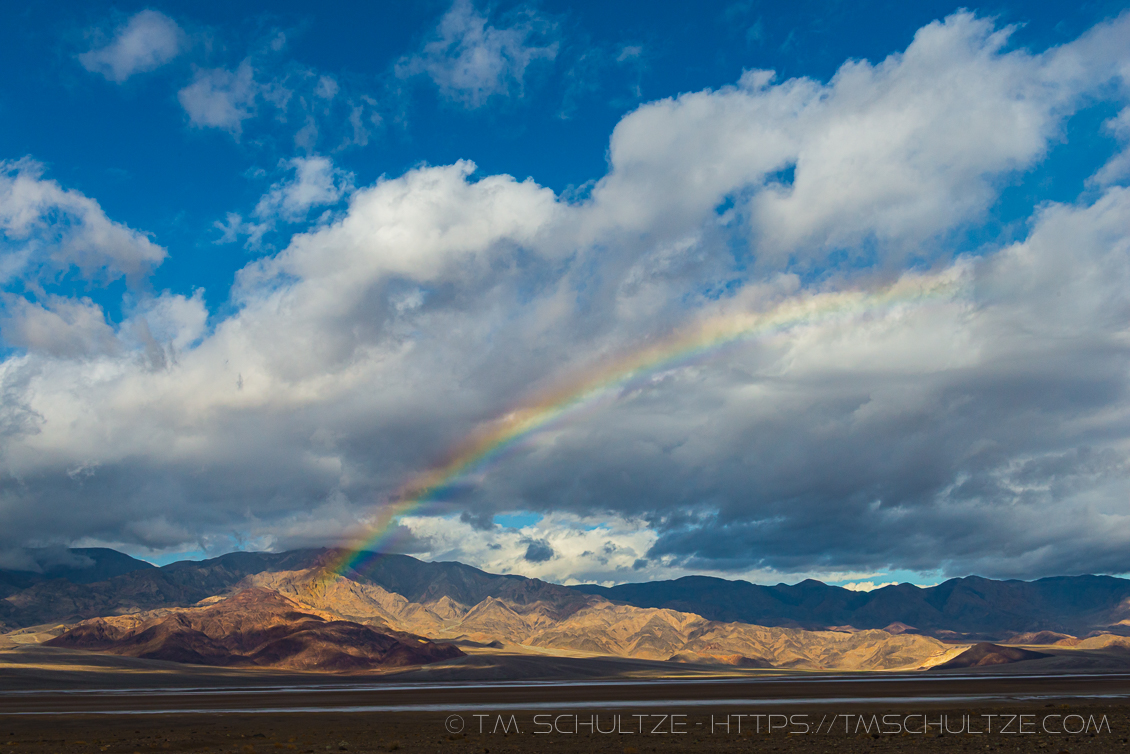 Background
This was the year of the "Superbloom" talk. The bloom was nice, but I wouldn't call it anything extraordinary. I did get a lot of photos of the wildflowers and it was a nice visit. However, the best image I made was when I was getting ready to leave.
The weekend was stormy, which is always concerning in Death Valley.  The wind was picking up and the gusts were shaking my low-profile vehicle.  In fact, the wind swung my driver-side door open so hard that I actually thought the hinges broke.  It was astounding.
The Badwater Rainbow
So why did I stop in that wind?  The image above is the reason, an incredibly rare rainbow above the Badwater basin.  The gusts were incredible, it was hard to stand still, yet I couldn't have felt more at peace taking this photograph.
The elements came together by chance.  It required sunlight close to the horizon.  I needed to be positioned with my back to the low sunlight.  Water needed to be present, not just in the clouds, but in the form of vapor.  All of this is rare in any arid environment.  I am not ashamed to say I was plainly lucky.  Despite all of the tourist traffic on the weekend, I was possibly the only person who saw it.  I didn't see a vehicle anywhere up or down Badwater Road.
These are the moments as a traveler and photographer I will never forget.  The moment was sublime.  I wish you could have been there to enjoy the moment with me.
Thank you for reading, and I hope you enjoy the image.
-TM
T.M. Schultze is a San Diego-based photographer, traveller, and writer. He writes, photographs, and draws things of the outdoors that have inspired humans for thousands of years. He co-authored the Photographer's Guide to Joshua Tree Park which can be purchased here.