My July 2014 Photo of the Month is Desert Monsoon, a photograph made in the Cholla Garden of Joshua Tree National Park during a monsoonal lightning storm.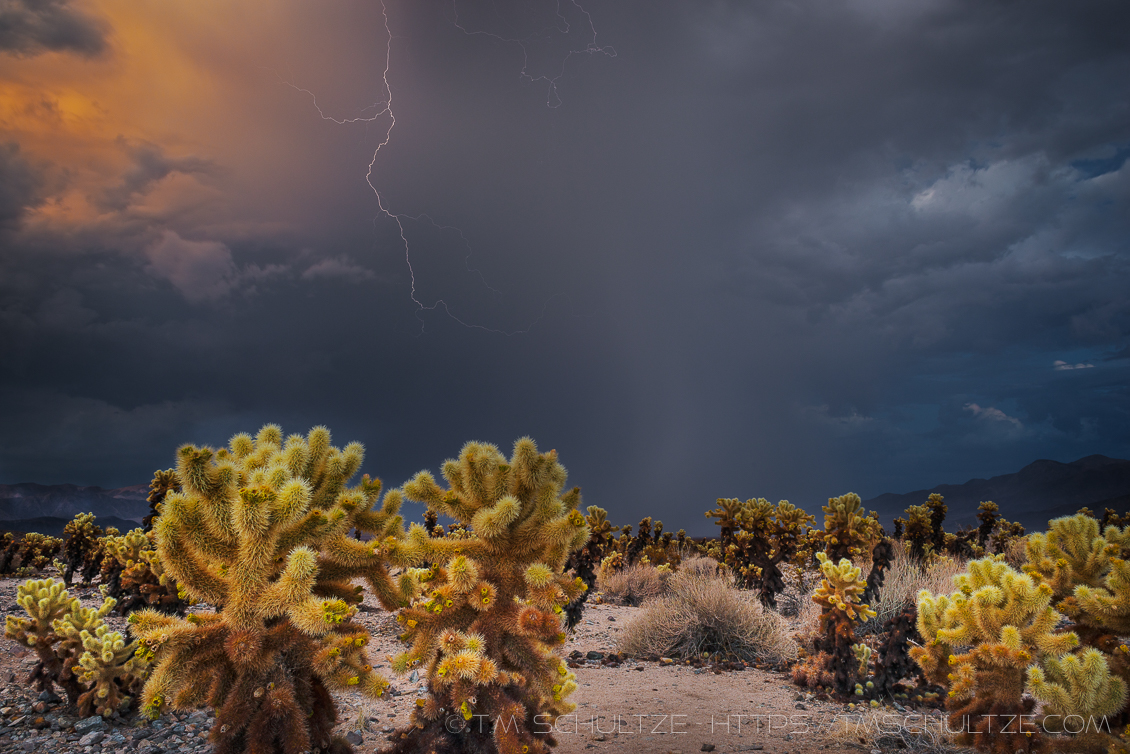 Desert Monsoon Background
Desert storms are dramatic, beautiful, amazing, and dangerous.  Every year (particularly in the Summer), lightning strikes and flash floods wreak havoc and cause many deaths.  If you are careful, you can take advantage to make some incredible photographs.
Joshua Tree's Pinto Basin is one such area.  It drains an area the size of Connecticut.  Every few years, the flash floods from places like Fried Liver Wash, Smoke Tree Wash, and Porcupine Wash do extensive road damage.  That's why the paving on Pinto Basin Road often looks new.  It usually is.
At home, 3 hours away, I was seeing a monsoon building East.  I took my chance and did the long drive into the Park.  Using Strikestar.us, I had an educated guess that the storm and lightning would be visible but miles away from the Cholla Garden.  This is where I set up.
I met a nice guy from Loma Linda who was also shooting.  He had one advantage, he owned a fancy lightning trigger for his camera.  I did not have one.  For me, I had to stick with 30 second exposure times.  This really brought in a lot of light.  It was getting to be pretty dark while I was exposing.
Lightning images are a lot of hit-or-miss.  Or rather, a lot of misses with a few hits.  This strike really stood out and I knew I had a winner.  I didn't want to tempt fate.  By this time, I was starting to hear the thunder.  That meant the strikes were within 10 miles of me.  Because the weather track seemed to show it moving North to Northwest, I suspected this weather would be heading my way.  It was time to pack up and head out.
I would also like to thank my good friend Jeremy Long for his artistic thoughts on the post-processing of the final image.
Thank you for reading, and I hope you enjoy the image.
T.M. Schultze is a San Diego-based photographer, traveller, and writer. He writes, photographs, and draws things of the outdoors that have inspired humans for thousands of years. He co-authored the Photographer's Guide to Joshua Tree Park which can be purchased here.