My July 2012 Photo of the Month is From Surf To Sky, an image made at sunset at Sunset Cliffs Natural Park in San Diego.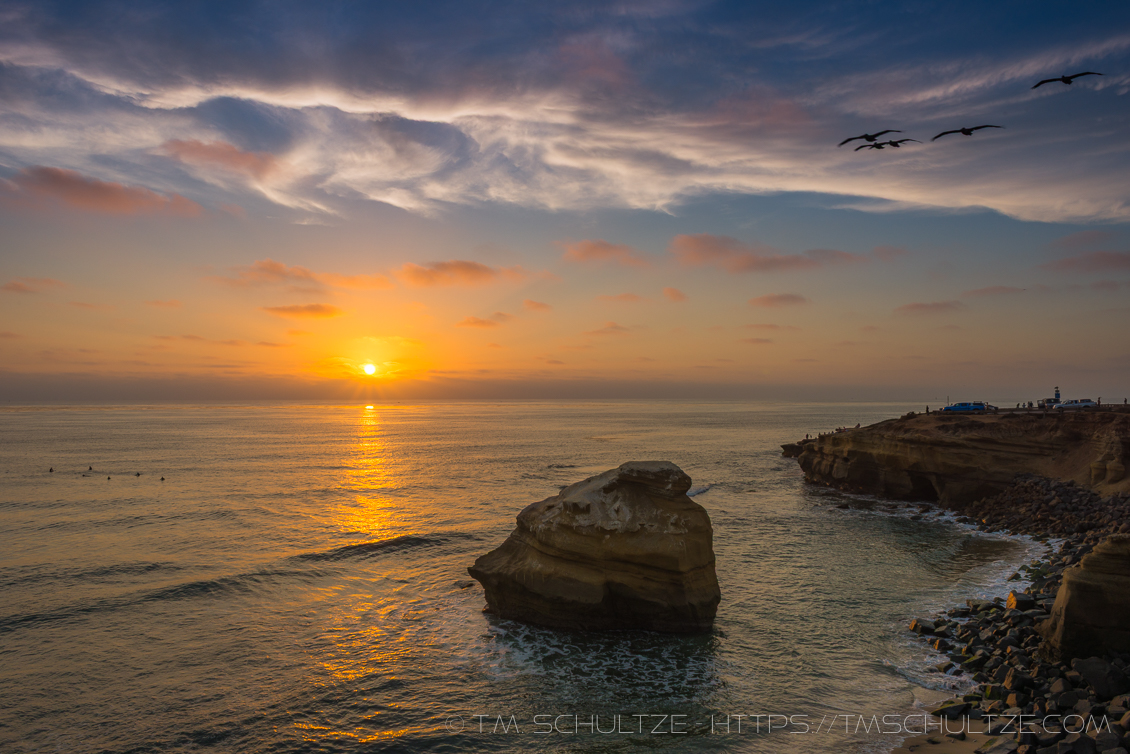 From Surf To Sky Background
If I have a muse in San Diego, it is Sunset Cliffs.  I originally began coming here regularly because it was so much easier to park than in La Jolla.  Enough visits commenced and I began to feel I knew the place intimately.
Ross Rock (or birdshit rock as the surfers call it) is the perfect seastack to frame the sunset.  It really is tough to not be drawn to this very spot again and again.
I would have enjoyed the sunset well enough on its own, with the colorful glow and beautiful clouds above.  But I also had the fortune of a flyover from a squadron of pelicans who were out for dinner.
Many times, they have flown over but I was using a "landscape" shutter speed that was too slow for their movement.  This time, I sacrificed a little ISO and depth of field in order to have a fast shutter.  As luck would have it, the pelicans were ready to help.
I have always marveled at the surfers who, besides riding the waves, spend a lot of time relaxing and enjoying the light.  Just as I am on a bluff above the shore admiring the color, they are offshore on their boards enjoying the same inspirational scene.  I am glad they are so dedicated to their craft, and they fill a very good spot in the frame.
Overall, I am happy with this month's edition, and look forward to more shooting.
As always, thank you for reading, and I hope you enjoy the image.
T.M. Schultze is a San Diego-based photographer, traveller, and writer. He writes, photographs, and draws things of the outdoors that have inspired humans for thousands of years. He co-authored the Photographer's Guide to Joshua Tree Park which can be purchased here.