My January 2010 Photo of the Month is New Year's Day 2010, a photograph made during one of the greatest sunsets I have ever seen in San Diego.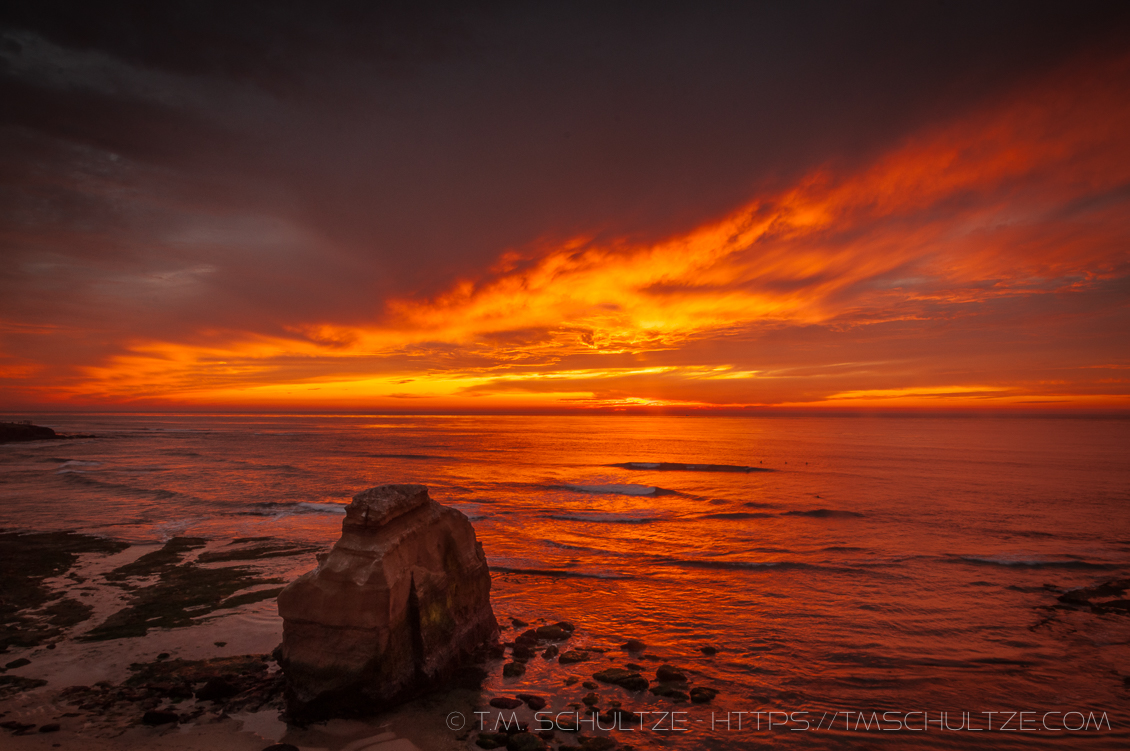 New Year's Day 2010 Background
What else is there to say when the light looks like this?
This was certainly one of the greatest nights of light I have ever seen in San Diego.  When the sun was reaching the horizon, I could see the whites on the underside of the clouds glowing, and I thought, "We might have something."
Shortly after the sunset, the yellows and oranges started, and I thought, are we going to get reds?  Will the sky catch fire?  Indeed, there was plenty of water in these clouds, and the glow doesn't do it justice.  Everything behind me was red from the reflection.  Those who stayed behind were gasping at the breakthtaking moment.  The upper clouds stayed dark, very dark.  And I loved the contrast.  It just added an incredible leading line to the image.
This is where the intersection of artistry and mother nature comes into play.  Am I a good photographer because I made this image?  Or was I just lucky to be there when it happened?  I am not too worried, because life and nature matched up on New Year's Day.  I will never forget how amazing this night felt.
A friend of mine messaged me on January 2nd, telling me (paraphrased), "I know you go to Sunset Cliffs a lot.  Here is a cell phone photo from there last night.  If you didn't go, you really screwed up."  It was a little smug.  I showed him my processed image and I did not hear much back.
Nothing more needs to be said with light like this.
As always, thank you for reading, and I hope you enjoy the image.
Buy A Print
San Diego Images From My Fine Art America Store
Further Viewing
Photos of the Month Portfolio Gallery
Greater San Diego Portfolio Gallery
T.M. Schultze is a San Diego-based photographer, traveller, and writer. He writes, photographs, and draws things of the outdoors that have inspired humans for thousands of years. He co-authored the Photographer's Guide to Joshua Tree Park which can be purchased here.