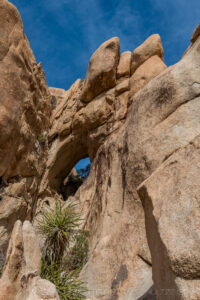 I recently trekked to Garrett's Arch in Joshua Tree National Park.  Garrett's Arch is likely the largest arch in Joshua Tree, although another unpublicized arch could give it competition.
Garrett's Arch is located in the Wonderland of Rocks backcountry.  The trailhead begins at the Wall Street Mill parking lot, proceeding briefly before veering left towards the Wonderland Ranch/Wiley's Market ruins.  Proceeding behind it, you will pick up the Wonderland Wash and follow it.
At about 0.72 miles, you should reach Jaguar Rock.  This is your first major landmark along the way.  After Jaguar Rock, the wash will enter a valley.  Proceed north.  Keep in mind that the Wonderland Wash will veer North but to the left.  This will take away from your destination.
Find the wash just to the right of Wonderland Wash, and you will pick it up through another canyon.  Keep going until you reach Three Freak Brothers to your right.  This is an easy-to-spot rock formation, and will alert you to the proper time to turn right.  The immediate right requires bouldering.  Keep North to the next turn and you will pick up the side canyon and save some energy.
Immediately, you should spot the Red Obelisk, another beautiful formation in the middle of the canyon.  Once again, the canyon will open up to another valley.  Keep going East, but veer North of the rock formations in the middle of the valley.  After you pass, you will pick up your last canyon.  Keep looking left in that canyon, and you will easily locate the arch.
Keep in the mind that the arch is in a difficult location.  A moderate but dangerous and slippery rock scramble will get you to a ledge below the arch.  There is another high wall that prevents entry to the arch itself.  The arch is also covered in the back by a large growing tree, so seeing "through" the arch is obscured.
A wide-angle lens is needed from this location.  You can also stand on the rocks in the canyon to get a larger image.
The mileage came out to 2.1 to 2.4 miles and is mostly easy, with some very minor rock scrambling.
T.M. Schultze is a San Diego-based photographer, traveller, and writer. He writes, photographs, and draws things of the outdoors that have inspired humans for thousands of years. He co-authored the Photographer's Guide to Joshua Tree Park which can be purchased here.