My December 2018 Photo of the Month is MNP1, a photograph taken in Mojave National Preserve.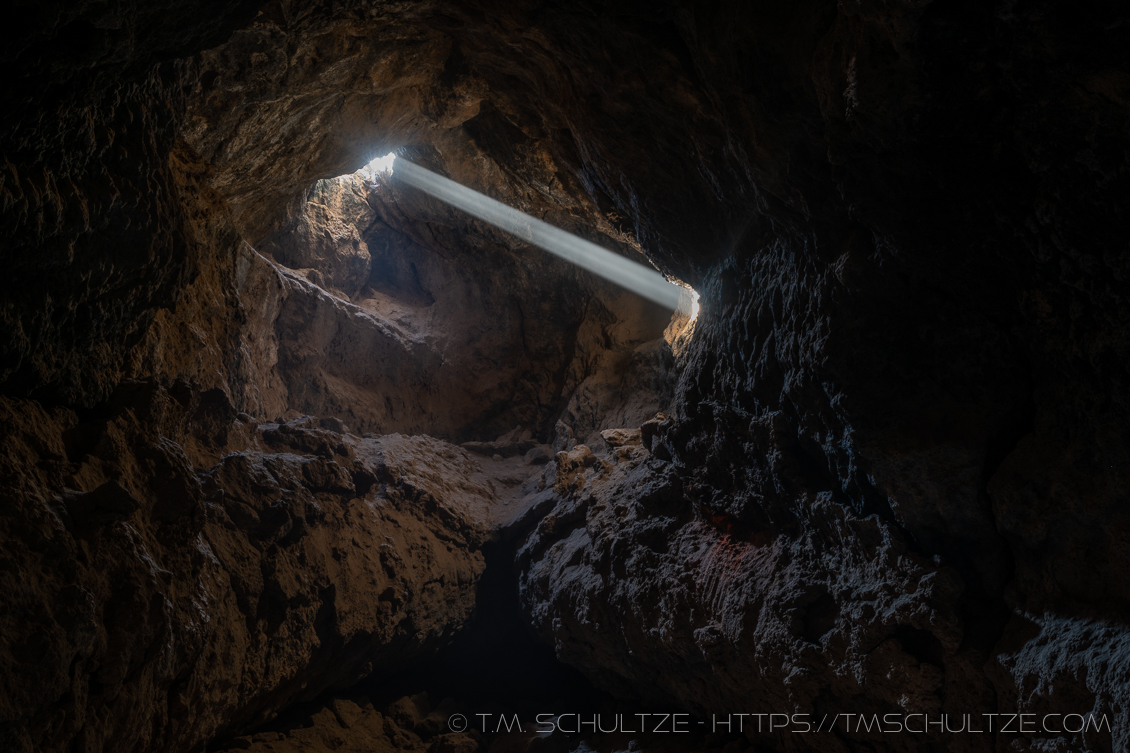 MNP1 Background
I gave away my December Photo of the Month when I included this image in my Favorite Photographs of 2018 post as part of Jim Goldstein's blog project.  In early January, there should be 150 or more blog posts from photographers throughout the world.
I took this photo on a trip with my friend Jeremy Long.  I was nervous about how busy Joshua Tree would be during the shutdown, something I would chronicle a few days later in a blog post.  On the other hand, Mojave National Preserve was not busy and even the lava tube area only had a few people shooting.
People like to visit when the sun is really high.  Indeed, the light shafts look really cool.  But people also underestimate Winter light.  Shot in the afternoon, the angle was really narrow.  That definitely didn't stop us putting together several very good compositions.
People often make the light shaft their subject, and for good reason.  They look awesome.  But I wanted to back up a bit.  I like negative space and balance in my images.  I wanted to give a sense of what the cave is like when you're in it.  Thanks to Nikon and the wonder of modern digital processing power, I was able to hold a lot of detail in the cave without completely blowing out the light shaft.
Another bonus in the cave (not necessarily for our lungs) was that there was a lot of fine silty dirt that circulated throughout the cave.  It had its own weather pattern.  We didn't have to throw any dirt up to get the light shaft to light up.
As always, thank you for reading, and I hope you enjoy the image.
Further Viewing
Photographs of the Month Portfolio Gallery
T.M. Schultze is a San Diego-based photographer, traveller, and writer. He writes, photographs, and draws things of the outdoors that have inspired humans for thousands of years. He co-authored the Photographer's Guide to Joshua Tree Park which can be purchased here.