I am staying inside but I am aware of the beautiful clouds outside!  So on that note, I have decided to work on the archive and share some of my favorite cloud photographs. Let's call them Cloudscapes.
A Time For Solitude
As many of you know, my mind loves wide-open spaces.  My photography reflects that.  I love large, wide, spacious images.  Clouds can provide so much beauty, drama, and much to contemplate in a photograph.
When the composition and the sky line up, the result can be magical.  Since we all embarked on our own periods of isolation, it's been a challenge to look at the sky and resist the urge to be out.  As I have noted before, the "outdoor exercise" exception to our shelter-in-place order has been taken too far by too many people.  Though I can probably walk the neighborhood with reasonable social distance, I want to set a good example and stick to the order as best as I can.  This became all the more important when today, the United States passed China for the most confirmed coronavirus cases.  And we are probably weeks from the peak.  It's sad, scary, and anxiety-riven.
I feel the hunger pangs of the camera shutter every time I look outside, but I posted my March Photo of the Month early for a reason.  I am committing to this order.  The best medicine for my photography withdrawals is my photo archive and my Adobe Lightroom catalog.
So let's look at some clouds.  Some are monochrome beauties, others are dramatic sunrises and sunsets, and some feature the clouds themselves as my photographic subject.  Many you have seen, and others I haven't posted to my blog before.  Clouds…in 3…2…1…
Cloudscapes To The Rescue
These are three of my favorites.  The first was taken at the Sunrise Highway overlook that all my local friends know about.  This is my best expression of what a rain shadow is, photographing the edge of it over your head.
The second is a lone oak sitting on a beautiful saddle in the Laguna Mountains.  Sometimes, photographing in portrait orientation really brings out a sense of forever when the conditions are just right.
The third was taken in Colorado of the Solar Eclipse in 2017.  It is a spooky image because it was overcast that day.  It was cloudy enough that I thought we were going to miss the eclipse itself, but with shielding and the proper glasses, it shown through the clouds.  What a cool moment!   I enjoy cloudscapes I wasn't planning on.
Some Early Work
The first image was a sunset at Ross Rock (aka Birdshit Rock) at Sunset Cliffs Natural Park.  It is still the most incredible sunset I think I have ever witnessed in San Diego.  It isn't just the explosion of color, but the trailing moody dark clouds behind it.  One of the few times in my life my jaw dropped and I nearly forget to click the shutter.
The second image was taken in 2007 in Joshua Tree National Park.  My camera was much more limited back then, but with this kind of color, a simple Eastern view of the Eagle Mountains was beautiful.  It was also one of the earliest times I discovered I despise cholla.
The third image was taken before reaching Zion National Park (you know, when you are an hour late because you forgot to factor in the time change).  I used to like to show up when storms were rolling in because of all the intermittent waterfalls.  The scene was cool, and I even have another of a light shaft over my head.  Oh, what I would give to have been able to take this with a Nikon D850.
Just Clouds
These images aren't for everybody, but neither was Alfred Stieglitz's original Equivalents project.  Sometimes, I just want the clouds themselves to be the subject.
The first image was coming back from hiking Iron Mountain, about 1/2 mile from the trailhead.  Although I have some of the ridge in view, the clouds are clearly the subject, and it fits with my other Modern Equivalents cloudscapes.
The second image came from those same Laguna Mountains, where so many beautiful memories occur.
The third image was taken right here in Santee, not far from Walmart.  There are so many layers and details to choose from.
Surveying The West
I haven't been able to travel much.  Life and parenting has made that a challenge.  So I like to look back at these beautiful moments throughout the West.
The first image is from Capulin Volcano National Monument in New Mexico.  This holds some special meaning to me because this was the first NPS site my daughter earned her Junior Ranger Badge.  She now has 15.  I can only hope she eventually loves the outdoors as much as I do.  She does love to tell me what animals the clouds look like, so what do these cloudscapes look like to you?
The second image, also another day my kid got a Junior Ranger Badge, is from Cabrillo National Monument.  The fog was rolling in and out.  Visibility was low, on the day that a ship parade was being held in San Diego Bay.  But every once in a while, the clouds would clear and it would create a special moment.
The third image is from White Sands National Park (Ed. Note:  It was still a Monument when I visited).  I struggled in my early years to understand metering, and many of my images have gray gypsum, but I enjoyed the virga and dramatic moments out on the sand.
The fourth image is from Big Bend National Park.  I need to go back and write a blog post about this trip, but this was peak monsoon season.  Highs were over 100 degrees and humidity was close behind.  Some of the light was incredible.  I also almost got struck by lightning in my campsite and had to throw all my gear in my car and get away from the strikes in the middle of the night.
The fifth image is from Great Sand Dunes National Park.  People have their sleds, and they are trampling the dunes off the parking lot, but hike a couple miles and you get scenes like this with nobody around.  Beauty and solitude:  just what a lifelong introvert cherishes.
The last image is from Gallup, New Mexico.  We had lightning as we stopped for the night, but I found a place to pull over and watch the lightning dance through the clouds.  I didn't get photos of any strikes, but I love the light of the cloud-to-cloud lightning just as much.  My daughter wasn't as excited waiting for me to take this image.
A Hopeful Moment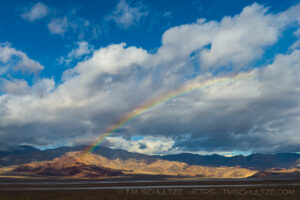 The news has been getting worse. It wasn't unexpected, but the reality of seeing so many people die at a time when the virus outbreak has not reached its peak in the United States is sad and scary. It's easy to wonder what's out there, what the future holds, and whether all of us can weather the solitude and financial pressure.
It's tough to have hope. Yet, I got to see Dave Matthews play from his living room tonight online, and even better, Trent Reznor and Nine Inch Nails dropped two new Ghosts albums on us today for free. Nine Inch Nails have been with me since I was a teenager, and I have collected every Halo release and every promotional single. The original Ghosts collection was sublime, and a special favorite (even if it stuck us with Old Town Road). To get these two releases was just the right thing to happen at this moment. The music is beautiful, sad, and hopeful. It's perfect. Trent, from the bottom of my heart, thanks man.
So I give you another old favorite, a rainbow I photographed over Badwater Basin in Death Valley National Park. The image is calm and peaceful. It's rare and beautiful. It gives you time to pause and reflect on life.  It remains one of the enduring cloudscapes of my life.
The reality is that the conditions were harsh. I had to leave through Highway 127 because they closed Badwater Road due to flash flooding. The wind was ferocious, so much so that it flexed the door of my old Honda Civic so hard I thought it snapped the entire door. It was cold, and the conditions were getting even worse.
This image makes me thing of what we are going through. Everything seems turned upside-down. We are going through something not experienced in a century. But in that dissonance are these moments of hope and beauty. Let's keep that perspective, keep hunkering down, and get through this!
As always, thank you for reading, and I hope you enjoy the cloudscapes.
Buy A Print
T.M. Schultze Fine Art America Store
Further Viewing
T.M. Schultze Portfolio Galleries
T.M. Schultze is a San Diego-based photographer, traveller, and writer. He writes, photographs, and draws things of the outdoors that have inspired humans for thousands of years. He co-authored the Photographer's Guide to Joshua Tree Park which can be purchased here.