For the 16th consecutive year, I spent Christmas in Joshua Tree National Park.
The first consideration was the weather. A large set of storms were rolling into Southern California, with plenty of weather hitting the National Park. I drove up on Christmas Eve after the largest storm band had passed through. It was still plenty wet, but the newly-acquired Subaru had no issue at all.
The snow level was supposed to be around 5,000 feet, but I can report I saw none. Keys View had no snow, and I could not see any on nearby Quail Mountain, the highest point in Joshua Tree National Park.
I started, as I usually do, in the Southern/Low Desert section of the park.  I made several photos of Pinto Mountain, a sentinel to the North of Pinto Basin that always gets beautiful sidelight during cloudy or stormy weather.
Heading North to the high desert area, I found there had been a lot of precipitation, particularly in the Lost Horse and Queen valleys.  Several sections of roadway were lakes where the water had not drained.
With some naivete, I thought the park would be quieter this year with the Omicron variant.  I would be wrong.  The first clue was passing the Cholla Garden, where the parking lot was so packed that NPS had 2 employees in yellow vests directing cars.  Ouch.  I also came across a completely full parking lot at Twin Tanks, which I don't think I had ever seen.
I followed the rain shadow line, which seemed to perfectly bisect Lost Horse Valley right along Keys View Road.  I wanted to see clouds make it over to Ryan Mountain and the Jumbo Rocks area, but I could see the clouds evaporate right overhead.  I did what I could.  Finally, because I was so close, I went to Keys Views.  There must have been 500 people there.  I couldn't believe it.  Even outdoors, I felt compelled to double-mask just to make a few images.
After that, I headed back to Jumbo Rocks.  Even without clouds, the rocks are always beautiful when light is at its longest.  I was pleased to see some clouds roll in to the South, and I composed a few images there.  Then, the sun hit the line of clouds to the West and everything went dark in an instant.
South of Cottonwood Springs and the NPS boundary is BLM land, and as usual I simply found a dirt spot, pulled over, and that was my camp for the night.  I made a couple images of the Jupiter/Saturn/Venus line in early evening.  I had been meaning to capture them for a while.
In the morning, I headed back in to the park.  I was hoping for a dramatic sunrise, but it was really overcast to the East.  The sun didn't appear from behind the horizon until about an hour after sunrise.  So the sunrise wasn't quite what I had hoped for, but it is hard to quibble with a Christmas morning in Joshua Tree National Park.
As I headed home, I grabbed a few images of Old Highway 60 South of Interstate 10.  One section required me to get some dirt under my Forester's wheels, which I had wanted to do.  I even put it into "L" for fun, although I don't think I needed to.  After that, I headed home and got the sleep I was missing from Christmas Eve.
What follows are images I made from the trip with some explanatory notes in the captions.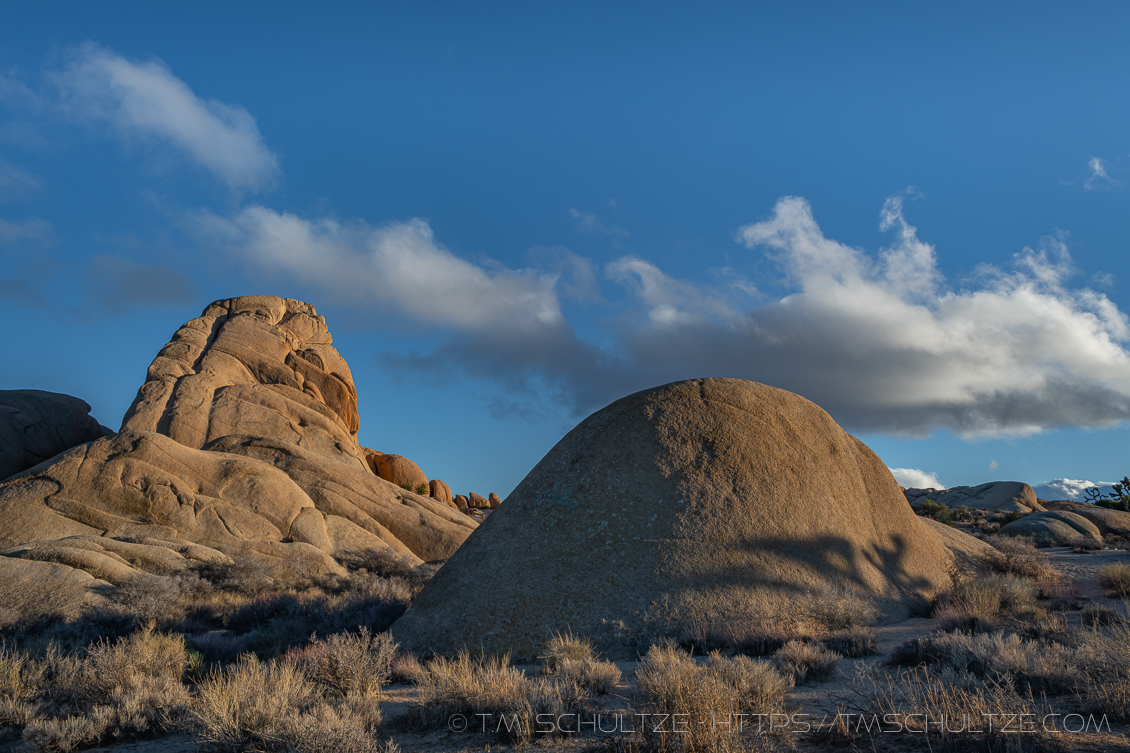 As always, thank you for reading, and I hope you enjoy the images.
Further Viewing
Exploring Joshua Tree Portfolio Gallery
Desertscapes Portfolio Gallery
T.M. Schultze Fine Art America Print-On-Demand Store
T.M. Schultze is a San Diego-based photographer, traveller, and writer. He writes, photographs, and draws things of the outdoors that have inspired humans for thousands of years. He co-authored the Photographer's Guide to Joshua Tree Park which can be purchased here.